DonorDrive® Launches Live Fundraising™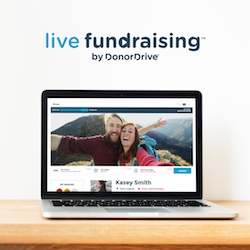 Cincinnati, OH, October 09, 2018 --(
PR.com
)-- DonorDrive®, the leading peer-to-peer fundraising software for nonprofits, has released Live Fundraising™, a feature that empowers event participants to fundraise through streaming. Whether fundraising from a walk-a-thon, gaming marathon or Do-It-Yourself fundraising campaign, participants connect their personal streams from Twitch, YouTube, or Mixer to their fundraising page and share.
"With the launch of Live Fundraising, DonorDrive clients can help fundraisers reach their networks through streaming," said Nik Stephens, DonorDrive's Chief Technology Officer. DonorDrive has made fundraising through streaming simple for nonprofits and their supporters: "Streamers can quickly connect their fundraising page to their stream and keep viewers engaged with our new, real-time activity feed. Donors feel safe knowing their money is going straight to the nonprofit since our fundraising pages are seamlessly branded and tightly integrated into the nonprofit's site."
Streaming is a rapidly-growing way for nonprofits to raise more money. According to Twitch, their streamers have raised over $75 million for nonprofits. Streaming is outpacing the growth of other types of online video, with an expected market value of $70 Billion by 2020.
Nearly a million people watch Twitch every day,
more viewers than CNN or MSNBC.
Combined with Express Donate™ in DonorDrive, supporters can donate quickly and nonprofits receive the money right away directly in their account. "Streaming creates interactive fundraising opportunities with a global reach, engaging new audiences with the mission of the nonprofit," says Stephens. "With Live Fundraising from DonorDrive, nonprofits no longer have to manage disparate systems, struggle to track who is fundraising for them, or wait weeks to receive money raised on their behalf."
"We've created the best experience for streamers, donors, and nonprofits," says Stephens.
For more information on Live Fundraising from DonorDrive visit:
https://donordrive.com/live-fundraising/
About DonorDrive
DonorDrive helps nonprofits raise more money through fundraising technology, marketing and interactive design services. With DonorDrive, organizations like World Vision, Children's Miracle Network Hospitals, American Foundation for Suicide Prevention and the Arthritis Foundation have raised more than $1 Billion. Find out more at
https://donordrive.com
.
Contact
DonorDrive
Joanna Harvey
866.244.0450
https://DonorDrive.com

Contact