San Miguel De Allende Named "Best Small City In The World" for 2nd Year in a Row by Conde Nast Traveler
The "Heart of Mexico" Continues to Garner Industry Recognitions and Accolades.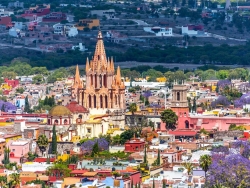 Manhattan, NY, October 10, 2018 --(
PR.com
)-- San Miguel de Allende, Mexico has been recognized as the "Best Small City in the World for 2018" at the 31st annual Condé Nast Traveler Readers' Choice Awards for the second consecutive year, reaffirming its place as one of the favorite spots worldwide of readers of Conde Nast Traveler magazine. Award winners were announced today by the magazine's editorial team, and San Miguel de Allende was the only Mexican city to make the list. Rosewood San Miguel de Allende, Hotel Matilda and Hotel Nena have also been recognized by the traveler readers as the best 50 hotels of the world.
The Condé Nast Traveler Readers' Choice Awards are the longest-running and most prestigious recognition of excellence in the travel industry and are commonly known as "the best of the best of travel." For more, see www.cntraveler.com.
In another coup, San Miguel de Allende was also chosen as the "American Capital of Culture for 2019," as announced by the International Bureau of Cultural Capitals (IBOCC). The official announcement was made August 22, 2018 in Barcelona, Spain.
"It is my great privilege and responsibility to accept this title on behalf of the people of San Miguel de Allende," said Guillermo Gonzalez General Director of the San Miguel de Allende Tourism Board. "We look forward to expanding the work in promoting our city's cultural offerings and positioning it as Mexico's fine arts destination."
San Miguel de Allende's reign as American Capital of Culture for 2019 will last from January 1 to December 31, 2019. Benefits of the IBOCC designation include the repositioning of the city worldwide, with 8,000 commercials to air in 45 countries - a promotional expense equivalent to $2 million in paid advertising. With this audience of 500 million viewers - and potential visitors - in mind, San Miguel de Allende will promote its cultural, artistic and gastronomic offerings along with its rich history, which has earned the city of some 140,000 not only this title of cultural capital but also recognition as a UNESCO World Heritage City.
The IBOCC has been a member of the Organization of American States (OAS) since 1998. Its founding mission is to promote the cultural heritage of member cities, encourage both domestic and international tourism arrivals and, most especially, generate cooperation between cultural capitals worldwide.
Prior to the announcement, IBOCC President Xavier Tudela had visited San Miguel de Allende August 13 and 14 to experience the destination and enjoy its gastronomy, architecture and traditions. Cities in Argentina and Peru were candidates for cultural capital status along with San Miguel de Allende. In making its decision, the IBOCC electoral committee evaluated and factored in each city's cultural promotion plan, the institutional consensus and geographic location.
About San Miguel de Allende
San Miguel de Allende, known as the Heart of Mexico, is considered the forge of national independence, birthplace of illustrious Mexicans and a colonial urban jewel distinguished by the warmth and generosity of its people and its rich historical, cultural and architectural legacy. On July 7, 2008, it was named by UNESCO World Heritage City under the title of "Protective town of Miguel and the Sanctuary of Jesús Nazareno de Atotonilco." The distinction was awarded due to the city's cultural and architectural contribution to Mexican Baroque. In 2013, it was recognized as the best city in the world by the Condé Nast Traveler International magazine. For more, see www.visitsanmiguel.travel.
Contact
San Miguel de Allende
Carlos Lopez
917-438-7096
visitsanmiguel.travel

Contact