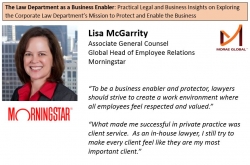 Chicago, IL, October 11, 2018 --(
PR.com
)-- In a world where business is moving at the speed of light, a company's employees can be its greatest source of enlightenment. At Mornigstar, people are the most important assets; and the law department of this global investment management company is making progress as a "people first" function.
"To be a business enabler and protector, lawyers should strive to create a work environment where all employees feel respected and valued," says Lisa. In reflecting on her decades of experience in private practice and as an in-house counsel, she noted the importance of putting people first. "What made me successful in private practice was client service. As an in-house lawyer, I still try to make every client feel like they are my most important client."
Listen to Lisa and Chuki discuss her experiences and explore practical insights on what law departments need to get right - the right people, process, systems, and scorecard?
For free access to the full podcast, contact Chuki Obiyo or visit here: https://soundcloud.com/user-9944886-252248365/lisa-mcgarrity-the-law-department-as-a-business-enabler