CyberTraining 365 Provides Free Online Training for Cyber Security Awareness Month
CyberTraining 365 is kicking off Cyber Security Awareness Month by providing free data security and privacy training to people all over the world.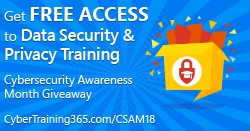 Redmond, WA, October 10, 2018 --(
PR.com
)-- To kickoff Cyber Security Awareness Month, CyberTraining 365 is continuing their efforts of empowering individuals to help fill the cybersecurity skills gap by providing free Data Security and Privacy Training.
CyberTraining 365 has had a long-standing history of providing educational opportunities by partnering with groups such as, Operation Code, the International Consortium of Minority Cybersecurity Professionals (ICMCP), Women in CyberSecurity (WiCyS), and educational intuitions like American Business & Technology University. They've also offered scholarship programs including CyberVet 365 and now, the Cyber Security Awareness Month Data Security and Privacy give-away.
Gemalto reported 4.5 billion record breaches in the first half of 2018 alone. Earlier this year, Facebook announced 87 million users were compromised in a data breach. More than ever, a solution is needed.
"We've found that one of the best ways to protect against cyber attacks is to have all individuals trained on detecting them. Our Data Security & Privacy training teaches anyone how to detect against malware, trojans, viruses, and much more. One of our missions at CyberTraining 365 is to provide accessible cybersecurity training to the entire world. Our Data Security and Privacy training designed enables us to do that," says Bally Kehal, CISO at CyberTraining 365.
The objective of
Data Security and Privacy Training
is to ensure that anyone can clearly Identify, mitigate and report any potential cyber threats. The training takes a simulated approach by showing students how common malware, trojans, and viruses infect machines and the ways to prevent them.
About CyberTraining 365
CyberTraining 365 is an online academy that offers nearly 1,000 hours of relevant and cutting edge cyber security training. Our training provides the most in demand industry certification prep courses including EC-Council, CompTIA, (ISC)2 and Cisco; all taught by leading cyber security experts. All of our offerings are aligned with the national initiative for cyber security education (NICE) and ensure the most up-to-date information for this constantly shifting field. With engaging content in a scenario-based format, CyberTraining 365 uses bite-sized micro-learning methodology ensures learners are not overwhelmed with information. On Demand LMS platform has white-label capabilities ideal for internal training purposes.
Contact
CyberTraining 365
Ranbeer Gill
1-800-720-4851
https://www.cybertraining365.com/cybertraining/Home

Contact