Batmasian Family Foundation to Donate to Hurricane Michael Relief Efforts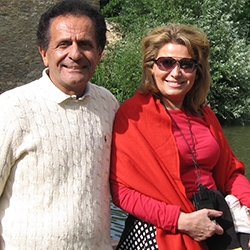 Boca Raton, FL, October 11, 2018 --(
PR.com
)-- James and Marta Batmasian, owners of Investments Limited, today announced that the James H and Marta T Batmasian Family Foundation will be donating to recovery and relief efforts for those in the Gulf Coast region who were significantly affected by devastating Hurricane Michael.
Hurricane Michael made landfall in Florida yesterday causing widespread devastation with winds up to 155 miles per hour. It has been making its way across Georgia and is expected to hit several states in the southeast, including Alabama, South Carolina, North Carolina, and Virginia.
When the hurricane hit Florida, it was classified as a Category 4 storm, the strongest to hit the continental United States since Hurricane Andrew, was the first Category 4 or stronger hurricane to ever make landfall on the Florida panhandle, and was characterized by the National Hurricane Center as "potentially catastrophic."
This is not the first time that the Batmasians have donated to recovery and relief efforts in the wake of natural disasters. As far back as 2005, in the aftermath of Hurricane Katrina, the Batmasians relocated well over 30 families from New Orleans to South Florida. These families had absolutely nothing left, and nowhere to go. Jim and his wife, Marta, gave them rent-free housing, furniture, clothing, food, etc., and helped them find jobs, get their kids in school and virtually rebuild their lives from scratch. This work continued for over a year, all while they themselves were still trying to recover from the multi-millions in damages they had sustained in 2004 as a result of Hurricanes Charley, Frances and Jeanne, and then Wilma in 2005 (exactly 2 months after Katrina hit).
"Our mission is to contribute to the well-being of displaced victims of Hurricane Michael by providing housing and career opportunities, thereby restoring them to full, productive and meaningful lives," explains Marta Batmasian, who feels very strongly about their philanthropic endeavors. "We believe in empowering people, helping to strengthen our communities and our nation, doing the kinds of things that benefit people, society, and the world as a whole, and we encourage our families, friends, neighbors and business associates to do the same."
Investments Limited is one of the country's premier real estate investment, ownership, development, and leasing organizations. They own a geographically diversified portfolio of commercial properties and residential communities, including the upscale mixed-use development, Royal Palm Place, in Boca Raton. For more information about Investments Limited visit
investmentslimited.com
Contact
Investments Limited
Jacqui Wyatt
561-392-8920
www.investmentslimited.com

Contact