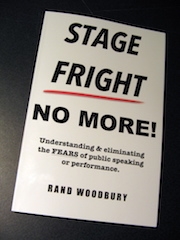 Palm City, FL, October 28, 2018 --(
PR.com
)-- The book offers the unvarnished truth about a condition referred to as "stage fright?" When anyone gets up on a stage, a great many unforeseen occurrences are going to transpire. This book informs the reader about all of them and offers effective countermeasures.
The easy to use, 4 step solution will work for everyone regardless of age. "I could not have written a book, that is this revealing, without spending 30 years on stages," says the author.
Once a month, K Horses Media is giving away a free copy of this new book. You can nominate anyone or yourself to win a free copy. Just message the publisher at: youcanaccomplish.com or find the K Horses Media Facebook page and ask to nominated in the timeline.
Perfect Bound: 85 pages
Written for ages: 10 to 85
Available at at: youcanaccomplish.com, Amazon, Kindle, and eBay