On Tuesday, October 23rd, the Shape of Honey Bee Hives Will Change Forever
Honeycomb Hives - Game-Changing Beekeeping System Launches Indiegogo Campaign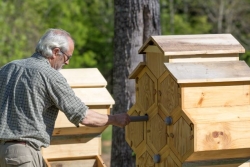 Cullowhee, NC, October 23, 2018 --(
PR.com
)-- Now Seeking Worldwide Community Support via Indiegogo, Honeycomb Hives' New Integrative Beekeeping System will make Beekeeping More Beautiful, Affordable, Profitable & Practical.
Honeycomb Hives has proudly announced the release of an all-new and remarkably Integrative Beekeeping System. Invented by Doug Lambrecht, a North Carolina mountain farmer, this new system includes five attractive hives with exchangeable Hexagonal Smart-Frames and his exclusive comb-honey harvest system.
The startup will also introduce this system on Indiegogo on October 23rd. Early crowd-funding backers of this fundraising campaign will be rewarded with discounts of up to 33 percent and their choice of hives will ship Spring of 2019.
"We are pleased to be setting new standards for serious beekeepers with inventive designs for energy efficient, healthy, practical and affordable bee hives," said Doug Lambrecht, American beekeeper and the founder of Honeycomb Hives.
With a vision of re-imagined beekeeping, the new system offers easy full-hive access with less lifting and more honey. Furthermore, it is safer, quicker, healthier, and more profitable than traditional methods Bees thrive in tight spaces so the Honeycomb Hives System uses dividers and follower boards to allow beekeepers to tailor their hive space according to growth of the colony. And, the new hives are carefully engineered for tighter boxes and precise fits, to minimize access for any pests.
About This Project
Honeycomb Hives, Inc. is a US-based startup that aims to change the shape of garden, backyard and urban beehives worldwide. Founded by Doug Lambrecht,
Honeycomb Hives
is introducing a game-changing concept of more precisely keeping bees and extracting natural honey from them.
The Indiegogo Campaign is located on the web at:
https://www.indiegogo.com/projects/honeycomb-hives-game-changing-reimagined-beehives/x/14661267#/
Contact
Honeycomb Hives, Inc.
Joe Bergeron
239-224-9757
www.honeycombhives.com
info@honeycombhives.com

Contact