Doors Open for the Brand New Indian Restaurant and Bar, Thanal Indian Tavern
An exotic gourmet Indian restaurant is coming to the neighborhood; Philadelphia can now boast of a truly unique, modern and chic Indian restaurant and bar.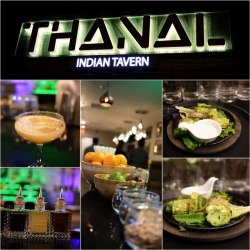 Philadelphia, PA, October 24, 2018 --(
PR.com
)-- Thanal Indian Tavern's doors open tomorrow with a soft launch, and will be open to the public with a curtailed menu for the next fortnight as they are gearing up for a mega grand opening. Please look out for the grand opening coming very soon.
In the meanwhile, visitors can come and sample a taste of the unique menu, which has been created from array of exotic and exiting items that present Indian food in a whole new dimension.
Thanal Indian Tavern brings culinary novelties from unexplored cuisines of India. You can experience Indian cuisine like never before; in its most authentic form and taste, yet with a touch of contemporary finish and presentation. Indian cuisine has evolved to its current prominence over many centuries and is influenced by the several invasions and trade partnerships with other cultures. It is a true melting pot of diverse culinary practices; Thanal Indian Tavern dipped into this melting pot and assembled an array of exotic and exiting menu items.
Thanal Indian Tavern's attempt is to transport visitors to a culinary journey of India by skipping all the touristy spots and take you straight to the heart of the culture. Their unique food and drinks menu is meant to inspire and appeal to the explorer in you, to experience Indian culture in a whole new way. Thanal Indian Tavern has recalibrated Indian cuisine with all its authentic splendor in an innovative style of subtle fusion and with tinges of barbeque.
Contact
Thanal Indian Tavern
Jaisri Chety
267-201-0006
www.thanalphilly.com

Contact