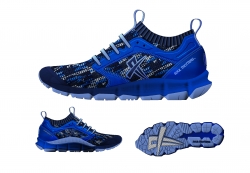 San Marcos, CA, October 29, 2018 --(
PR.com
)-- Soul Trotters Sports Apparel/Cross Fit Shoe Company, a new start up business, announces its first crossfit/running shoe, the SanctiFlyTM 1.0. The SanctiFly 1.0 is currently on Kickstarter, a crowdfunding site to raise capital to manufacture and distribute these top of the line athletic shoes. -
http://kck.st/2p4icLG
The SanctiFly 1.0 will be unique in several ways including the arch and a powerful message.
Bradley Vilen, Chief Vision Officer, was a pro basketball player in Europe and has a lifelong interest and passion for athletic shoes, paying attention to the functionality of shoes. He also is a survivor of a deadly disease, bacterial spinal meningitis, overcoming many obstacles with this unseen handicap and persevering through them. This Soul Trotters brand was born out of his story. Soul Trotters' motto is Trusting Step by Step.
First off from a technical standpoint, the shoes will address the lack of arch, missing in most athletic shoes, in particular running shoes. The SanctiFly will have a slightly higher arch unlike most conventional running shoes that tend to be flatter. Many have foot issues because of the lack of arch in their shoes.
Another thing that will make this shoe unique is the message. Each one will have an encouraging Bible verse imprinted inside the shoe near the size. "We are all created by God and we want to celebrate that fact and give God the Glory in all that we do," Bradley says. Along with a verse, each shoe will have the action cross logo embedded in the tread mold as well as on the sides of the shoe.
Soul Trotters have worked closely with one of the best athletic shoe designers in the business to come up with a top of the line shoe. Special attention has been given to some the most popular colors and styles in our first run release. The SanctiFlyTM 1.0 will also be fairly lightweight and will adjust to your foot width easily since the upper will be made of Flyknit material.
Soul Trotters hope you will join them as a partner to bring this shoe to market and support them as they sell initially from
www.SoulTrotters.com
and then on to Amazon.com and beyond. Thanks you for your support as Soul Trotters strive to bring you a premium product without a premium price tag.
Please visit Soul Trotters Kickstarter Campaign for more info. -
http://kck.st/2p4icLG
YouTube channel:
https://www.youtube.com/channel/UCNGrDrCmnc2F-l901NPh7Fw/about
Contact: Bradley D. Vilen, 760.484.2988,
sales@soultrotters.com