SOURCE OIL® Forwards Freshness Quality Standard for DHA Algae Oil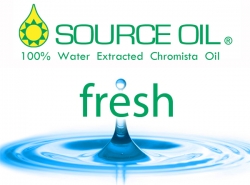 Chapel Hill, NC, October 29, 2018 --(
PR.com
)-- Source-Omega today forwards their freshness standard is a promise of quality, suggesting a low Total Oxidation score translates into stable, fresh tasting oil. Their unblended algae omea-3 oil was perfected 6 years ago as a water extracted, winterized, single ingredient oil. It was branded SOURCE OIL® in 2012.
Previous company statements in press, since 2012, have been forwarded by Source-Omega and its Chief Scientist. These statements include comments that suggest algae oil is successful as an unmodified, natural food for nutrition, that algae omega-3 can substitute for medical fish oils, that retro-conversion of DHA supports the body's own omega-3 ratio, which they state is about 80% DHA and only 5% EPA, and that their oil is made in controlled tanks and is untouched by seawater.
Dr Scott Doughman, the founder and architect of Source-Omega, says "Our Chromista oil (schizochytrium sp.) is uniquely water extracted to create an improved quality standard that is consistently below a Total Oxidation number 10 for algae oil, compared to the current fish oil standard of under 25. Our latest 3rd party certificate shows a score of under 5 and is available to view." (See attached file)
About: Source-Omega, LLC is headquartered in Chapel Hill, North Carolina, near the Research Triangle Park. It was founded in 2007 and specializes in the international marketplace for manufacturing, branding and private labeling algae oil nutritional products for clinics offering triglyceride lowering plasma lipids management programs, brain health, and for pregnancy, nursing and family care.
Contact
Source-Omega, LLC
Gene Wolf
919-360-5275
www.source-omega.com
11312 US 15-501 North, Suite 107-122
Chapel Hill, N.C. 27517, USA

Contact