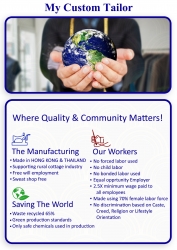 Hong Kong, Hong Kong S.A.R., November 08, 2018 --(
PR.com
)--
My Custom Tailor
provides a custom tailoring alternative to ill-fitting, off-the-rack clothing for men and women. These master tailors provide customers with various options in clothing such as
men's custom suits
,
women's custom suits
as well as
men's custom shirts
and
women's custom shirts
.
In order to continue their legacy of following international human rights, conservation, and production standards, the company insists on a corporate culture that uses no forced labor, no sweat shop labor and no child labor in their services. My Custom Tailor prides itself on being an equal opportunity employer and all of their employees earn 2.5x minimum wage. They refuse to discriminate based on caste, creed, religion or lifestyle orientation. 70% of its labor force is female.
"We believe in equality for all human kind and in the Human Rights as outlined by United Nations Human Rights Council," says Richard Dawson, marketing director at My Custom Tailor.
In addition to their ethical HR practices, the company aims to continuously improve upon its environmental footprint as well. My Custom Tailor maintains green production standards and 65% of its waste is recycled. They also use only safe chemicals in their production.
"We seek to protect our natural resources and conscientiously deploy conservation measures so that future generations will inherit a safe and appealing environment. We recycle wherever possible. Protecting our environment and conserving resources is a prime cultural priority in how we operate our workshops and showrooms," says Richard.
To provide excellent quality, superior customer service, and expert workmanship at a great value to a larger clientele, My Custom Tailor offers Traveling Tailor services. Currently, The Master Tailor at My Custom Tailors is on his Fall rounds of the United States. He is visiting all major cities in the US - east and west coast, as well as the Southern US. The Traveling Tailor's itinerary can be found here: www.mycustomtailor.com/visiting
Get measured in person by the Master Tailor himself! All Custom Suits and Shirts are bench made bespoke and delivered in 4 to 6 weeks. Let the expert tailors at My Custom Tailor provide you with a wardrobe refresh at an affordable price.
For more information about My Custom Tailor, go to their website at www.MyCustomTailor.com