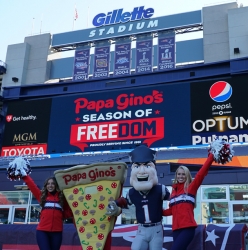 Dedham, MA, November 01, 2018 --(
PR.com
)-- Register for Papa Gino's Rewards Program and get a free small cheese pizza.
Papa Gino's today announced that Nov. 4, 2018 will kick off a Season of FREEdom for the iconic New England brand, where every new registrant into the Papa Gino's Rewards Program will receive a free small cheese pizza automatically added to their rewards card.
"Papa Gino's has been a treasured New England brand since 1961. This is a great opportunity for us to give our loyal guests the ability to reap the rewards of ordering with us over and over again by registering for a Papa Gino's Rewards Card. New guests receive a great incentive just for registering and trying us out for the first time," said Corey Wendland, Senior Executive at Papa Gino's.
Once registered, rewards members can celebrate the Season of FREEdom with a free small cheese pizza and they can also look forward to earning points as they continue to order. Members receive $5 Reward Dollars for every $50 spent, and will also have the opportunity to receive bonus giveaways throughout the year. Reward Dollars can be used on any food orders. In addition, during the Season of FREEdom campaign, new registrants to the rewards program will also be entered to win New England Patriots game tickets and other Patriots prizes.
As the Official Pizza of the New England Patriots, Papa Gino's will officially kick the program off in-stadium during the New England Patriots vs. Green Bay Packers game in primetime on NBC's Sunday Night Football as part of the team's Salute to Service initiative on Sunday, Nov. 4. Throughout November, Papa Gino's will thank servicemen and servicewomen for their tireless dedication by providing free pizzas at New England Patriots Foundation events honoring those who currently serve and have served as well as offering a 20% in-restaurant discount all month for current and veteran servicemen and women.
"We are thrilled to work with companies that share our New England roots and are proud to have a relationship with Papa Gino's that dates back over two decades," said Murray Kohl, Vice President of Sales for Kraft Sports + Entertainment. "Patriots fans love Papa Gino's and nothing's better than free Papa Gino's pizza. We are glad to have Papa Gino's supporting some of the team's efforts to recognize and thank the servicemen and women that safeguard our freedom."
To register for the Papa Gino's Rewards Program, simply go to: papaginos.com/freedom. A guest will need to be new to the Rewards Program to get the free pizza. Existing members are not eligible for this giveaway, but as always, can continue to gain points as they order and will continue to be eligible for free pizzas on special occasions like birthdays. The free small cheese pizza may take up to 48 hours to load onto the rewards card. The free cheese pizza incentive is for a limited time only. Papa Gino's reserves the right to modify the program at any time.
Media Contact:
PR@papaginos.com