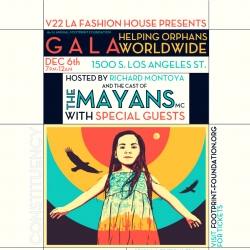 Los Angeles, CA, November 09, 2018 --(
PR.com
)-- The Footprint Foundation, a non-profit collective, is pleased to announce its first annual Arts Gala to be held on Thursday, December 6, 2018 from 7 p.m. to 12 a.m. at V22LA Fashion House in DTLA. The event will be hosted by fashion brand V22LA (which consists of husband and wife team, Frank Rodriguez and Angela Smith-Rodriguez) and cast from the FX hit show Mayans M.C., a spinoff of the popular Sons of Anarchy series. Proceeds from the event will go to benefit four different charities that focus on orphans and displaced/at-risk youth. Antonio Jaramillo who plays "Riz" on Mayans M.C. will also share his harrowing story of how he went from orphanage to the big screen.
"My personal endeavor is to help, one child at a time." – Angela Smith-Rodriguez, Co-Founder of The Footprint Foundation.
Proceeds from the event (coming from sale of artwork, sponsorships, and donations) will go to support the four following charities: Arts for a Better Tomorrow, Casa Estrella Foundation, Colette's Children's Home and Leja Bulela.
In addition, it will be a celebration of Latino and Chicano culture with works available for purchase plus live performances from notable entertainers and artists. Richard Montoya will MC the event, there will be spoken word by Richard Cabral, a Dark Progressivism Exhibition of Chicano artists curated by Rodrigo Ribera d'Ebre and curation of limited edition artists' prints and originals by Modern Multiples featuring timeless works by Shephard Fairey, Richard Duardo and Ernesto Yerena; to name a few.
Gala MC Richard Montoya is a founding member of the satirical performance trio Culture Clash, a potent mix of Chicano aesthetics and activism. Montoya is the son of the legendary Chicano artist, poet, and musician José Montoya.
The artwork at the Gala has two curators with distinctly different visions. The first by spoken word artist, award-winning filmmaker and Dark Progressivism curator, Rodrigo Ribera d'Ebre who is a regular contributor to Huffington Post and his work has been featured in Dual Coast Magazine and the Los Angeles Review of Books. He is the author of the political treatise on street gangs, Urban Politics: The Political Culture of Sur 13 Gangs.
The second, Modern Multiples, is a fine art printmaking studio specializing in serigraphs and digital giclees. They collaborate with a wide array of contemporary artists and designers to create unique and highly collectible works of art.
Current gala sponsors are: Capstone Partners Financial and Insurance Services, LLC, Three Weavers Brewery, Hint Water, D'Ouro Vino Selections, Vox DJs, and Espinozas Leather.
Come be a part of an inaugural event that will combine art, fashion, and improving the lives of thousands of children. There are a limited amount of tickets available. Donations are welcome and there are still some sponsorship opportunities available. For more information, please contact Kayowa Kasongo at kayowa@yowaevents.com or 323-989-2704.
About Arts for a Better Tomorrow
Arts for a Better Tomorrow, a 501c3 nonprofit based out of Los Angeles, CA whose vision is to create a world where youth from diverse, disadvantaged communities have support and equitable access to a bright future. Contact: José Yenque info@ArtsBT.org or (213) 292-0336
http://artsbt.org
About Casa Estrella Foundation
Casa Estrella whose mission is to provide a Christian home, family and education to the impoverished youth in our communities. Contact: Joe Valenzuela joemvalenzuela@aol.com or (858) 605-1365
http://casaestrellafoundation.com/
About Colette's Children's Home
Colette's Children's Home, a California-based organization whose mission is to provide homeless single women and mothers with children a safe home and nurturing environment. Contact: Colette O'Connell (714) 596-1380
http://www.coletteschildrenshome.com/
About Leia Bulela
Leja Bulela, a 501c3 nonprofit providing health care, educational opportunities, and advocacy and championing the rights of refugees in Congo. Contact: Muamba Kabongo director@lejabulela.org
www.lejabulela.org
About Footprint Foundation
A nonprofit foundation founded by husband-wife duo Frank and Angela Rodriquez of V22LA Fashion House. By using the close community of Chicano celebrities and artists, the group is dedicated to improving the lives of children throughout the world by providing additional support to children's charities through fundraising efforts and raising awareness for philanthropic work from the Latino and Chicano communities.
Location: 1500 South Los Angeles Street, Los Angeles CA 90015
@footprintfoundationla
#footprintartgala
Snapchat: footprint_foundation_la
Contact: Angela Smith-Rodriguez
E-Mail: v22denim@yahoo.com
Phone: 818-468-2647