Roppe Garners 2018 Healthcare Facilities Symposium Distinction Award
Envire® Rubber Sheet with FlashCove recognized as most sustainable product.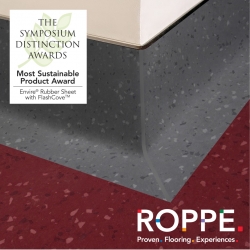 Austin, TX, November 09, 2018 --(
PR.com
)-- Roppe Corporation, a leading supplier of commercial rubber and vinyl flooring products and accessories for more than 60 years, proudly announces their product Envire® Rubber Sheet with FlashCoveTM, has been awarded the Symposium Distinction Award for Most Sustainable Product. The award was presented at the annual Healthcare Facilities Symposium & Expo at the Austin Convention October 8th.
The Awards program recognizes the best and most innovative new products within the healthcare design & construction industry. In addition it recognizes design teams, projects and individuals who have made a profound contribution to the healthcare design industry. The program accepts submissions of all types and sizes of patient care-related facilities.
"Roppe embodies a sustainable enterprise and its products embody sustainable principles," stated Ann Dougherty, RHC General Manager of Sustainability. "Dedicated employees design and make quality products, protecting the environment and customer health, engage in community philanthropy, and more, and their efforts work together in Roppe products - like the Envire-Flashcove assembly that received this sustainability award – to serve society."
According to Rahul Dhavalikar, RHC Chief Polymer Chemist, Envire® Rubber Sheet and Tile was developed in a premium formulation innovated by Roppe that is Red List Chemical Free. "In addition to the healthcare benefits, the product needed to exceed the demands of a high-traffic environment which include exceptional wear resistance and dimensional stability." Simplified maintenance procedures that don't require a finish provide life-cycle cost benefits that healthcare facilities and operators require. Available in a six-foot-wide sheet, Envire offers fewer seams which promise faster installations and less chance for bacterial build-ups.
FlashCoveTM Prefabricated Bases offer a solution to the failures that plague site-formed bases where seamless installations are a must, such as healthcare. This patented process enables FlashCove to offer a lifetime guarantee to perform against the daily use of maintenance equipment, point loads, small-wheeled traffic or chairs where other bases fail. The tighter radius creates a snug fit at door frames and allows for more thorough cleaning.
Learn more at roppe.com
About Roppe Corporation
Roppe Corporation is a wholly owned division of Roppe Holding Company and is an industry leader of commercial rubber and vinyl flooring products. Roppe Corporation is family owned, and is a very integral part of the small Midwestern town of Fostoria, Ohio, where our headquarters are located. The longevity of our company is a testament to the employees that live local to this community and take pride in every product that is manufactured, shipped and delivered to our end-users. Employee satisfaction is very high and their commitment to the products and the company are unmatched in the industry.
Contact
Roppe, Inc.
Deanna Brickner
419-436-4552
roppe.com

Contact