Color Marketing Group Announces 2020+ Asia Pacific Key Color – Seed of Life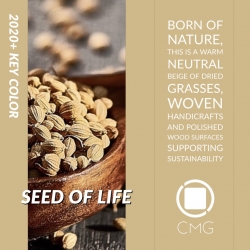 Philadelphia, PA, November 10, 2018 --(
PR.com
)-- Creating a base color from which others can grow, Seed of Life delivers a statement of simplicity and origin as it offers direction counter to the busy-ness of life. Such is the trend-forward message of Seed of Life, the Asia Pacific Key Color for 2020+. Born of nature, this warm, neutral beige succeeds in adding a sense of calm, and connection amidst modern scenes.
Nature and sustainability continue to be important trend directions and Seed of Life offers a glimpse to the story behind the trend. It is the color of seeds, grains, and of dried grasses wafting in the breeze, it connects us to the earth, to our food sources, and ultimately, to one another. Seed of Life represents the staples of life.
Seed of Life is the antithesis of rampant technology; it is the color for going off-road, for exploring, and for returning to one's roots. It becomes the chromatic off-button to wind down and inhale a moment. Dealing with unhealthy work environments, managing our own time schedules, and accepting a self-focus that is imperfect, but unpressured, Seed of Life relieves tension.
The color Seed of Life is a catalyst for items that connect us to nature, offer tranquility, and help us to lead better, healthier lives. The items we make will evoke vitality as they express imagination and the positive energy with which creations emerge. Woven handcrafts suggest a sense history with designs rewoven for a new perception of social dynamics. Whether art, utensil, or furnishings, creations of polished woods will invite you to caress them, feel the grain and experience the movement of the piece.
Beyond material items, food embodies the spirit of Seed of Life as ancient grains have an ancestral connection that nourishes not only our bodies, but also our spirits. Plant, cook, bake, and share the bounty from your garden and table as the basics of life enhance our everyday being.
The saturated warmth of Seed of Life is the starting point from which creations emerge, bodies and friends are nurtured, and stress diminished. This trend color begins at the roots of life, with Seed of Life.
About Color Marketing Group®
Color Marketing Group®, founded in 1962, is a not-for-profit international association of color design professionals who forecast color directions and is a forum for the exchange of all aspects color. Members represent a broad spectrum of designers, marketers, color scientists, consultants, educators, and artists. Color forecasting events are held throughout the world and the results from these events become part of the global World Color Forecast™ revealed at the annual International Summit.
Contact
The Color Marketing Group
Sandy Sampson - VP PR & Communications
703.329.8500
http://www.colormarketing.org/

Contact
Multimedia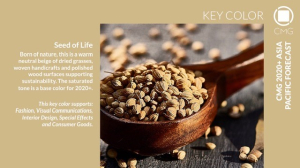 Color Marketing Group Announces 2020+ Asia Pacific Key Color – Seed of Life