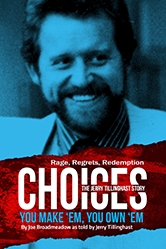 Providence, RI, November 13, 2018 --(
PR.com
)--
Choices: You Make 'em You Own 'em
The Jerry Tillinghast Story
Joe Broadmeadow, retired captain from East Providence (RI) Police Department and author along with Jerry Tillinghast, once a feared member of organized crime and associate of Raymond L.S. Patriarca, have teamed up to write the definitive book debunking the myth of the mob.
In a remarkably personal and intimate story, Jerry Tillinghast talks about his life and the choices he made from the perspective of three decades in prison.
He reveals the inside story of the two of the most infamous cases in Rhode Island history; Bonded Vault and the George Basmajian Homicide.
Jerry was found not guilty after the Bonded Vault trial, but his luck ran out with the Basmajian murder. Convicted with Jerry was his brother, Harold Tillinghast. Since the moment of their arrest, Jerry has said just one thing.
Harold wasn't in the car.
Jerry Tillinghast, a featured character on the Crimetown podcast, one of the most downloaded podcasts in the world, tells his life story with honesty and emotion. Setting the record straight after forty years of silence.
Silent no more...
About "Choices: You Make 'em You Own 'em"
"The worst mob books are by ex-mobsters, trying to justify their existence as rats. In 'Choices,' retired New England mob enforcer Jerry Tillinghast had the good sense to wait until all his former colleagues were dead..." - Mark Ebner, New York Times bestselling crime writer.
Available on Amazon