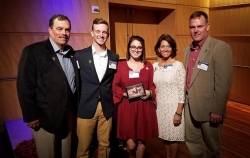 Madison, WI, November 13, 2018 --(
PR.com
)-- On November 4, 2018, Lions Eye Bank of Wisconsin held its annual Legacy of Sight ceremony, which honored families and their loved ones, who gave the gift of sight through eye donation. The event, held at the Overture Center, in downtown Madison, Wisconsin, began with a welcome from Stacey Troha, Interim Executive Director at Lions Eye Bank of Wisconsin. "Know that your loved one's gift has brought peace of mind, reduced anxiety and stress. No more will a recipient wonder if they counted money correctly, reached the bottom step or if the kitchen stove is turned-off. The gift of sight is a gift of freedom. It empowers the recipient to move about in the world on their own terms and do so with confidence," says Troha.
Guest speaker, Dawn Lyons-Wood, shared the story of her daughter, Emily Lyons, who lost her life on February 28, 2015, in a snowmobile accident at the age of 19. Emily, an organ, eye and tissue donor, provided the gift of sight to two people in Wisconsin and saved and healed the lives of more than 60 people. "Although we have all experienced loss, we have all experienced great love as well. Life is full of give and take, and nothing defines that more than donation," says Lyons-Wood. "Every morning when I wake up, I must remind myself of my new life. I think, either I can give up or I can give it my all. I choose to wake up with a heart full of gratitude." Lyons-Wood is also a Beaver Dam Lions Club member and an LEBW Transporter. Volunteer Transporters relay boxes of corneal tissue from various pick-up and drop-off points throughout Wisconsin, and play a critical role in helping to provide the gift of sight to people all around the world.
Guests also heard from double corneal transplant recipient, Kathy Roberg. More than 15 years ago, Roberg was diagnosed with Fuchs' Dystrophy, a disease which usually affects both eyes, and causes a gradual decline in vision due to corneal swelling and clouding. Undergoing her first corneal transplant in 2017, Kathy, a nurse, has been able to continue to participate and lead trips to Haiti, which provides medical and dental care to local residents. "I am now able to be a wife, mother, sister, auntie and friend, and now see and reflect the smiles and joy that comes from others. I will do my best every day to wake up and thank the donors and their families for this precious gift," Roberg said.
November also marked the beginning of National Eye Donation Month, which raises eye donation awareness, honors donors, celebrates recipients and acknowledges the entire community of people who are involved in the journey of sight restoration. Each year, millions of people around the world have their lives transformed through cornea donation and transplantation. Corneal transplantation is one of the most frequently performed human transplant procedure with a 95%+ success rate. In 2017, LEBW placed more than 1,800 corneas for transplant to residents in Wisconsin and around the world. For more than 50 years, LEBW has been dedicated to restoring sight through the recovery and transplantation of corneal tissue, research to advance the knowledge and treatment of eye disease and education to increase donations.
For more information about organ, eye and tissue donation, visit lebw.org/donation.