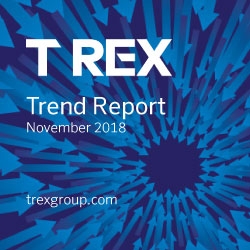 New York, NY, November 18, 2018 --(
PR.com
)-- T-REX, a leading data and software provider for renewables financing, shares insights on investing, data transparency, and technology trends from experts on the C-PACE sector.
Report Abstract:
We are approaching an inflection point in the capital markets for energy efficiency asset classes. As demand from consumers and businesses to deploy renewable energy projects intensifies, we are seeing increasingly innovative ways to finance those projects. Commercial banks are more willing to lend into these sectors, subsequently leading to increased focus and sophistication in the capital markets to facilitate structured credit transactions. Institutional buy-side appetite for green investments and enhanced yield continues to grow, supporting the supply of deals. The convergence of these factors points to a spike in capital markets activity for renewable energy asset classes – particularly for Commercial PACE and Solar ABS – in 2019 and 2020. How can investors be prepared to capitalize on this opportunity? Here, we explore each of the above trends, as well as provide guidance for accurately assessing, pricing, and monitoring the risk associated with these complex asset classes.
Access a complimentary copy of the T-REX Trend Report at
https://www.trexgroup.com/t-rex-trend-report-november-2018/
Expert market commentary provided by:
Chris Miller, Director, Private Placements, Nuveen (subsidiary of TIAA)
Sandeep Srinath, Director, Structured Solutions Group, ING
Jim Stanislaus, Co-Founder, Petros PACE Finance
Cliff Kellogg, Executive Director, C-PACE Alliance
About T-REX
T-REX is the leading provider of managed data services and enterprise software for the complex financing of esoteric asset classes. T-REX drives down the cost of capital and reduces risk exposure by bringing scalable financial infrastructure and collaboration capabilities to the investment lifecycle of renewables. Designed to empower efficient finance, T-REX solutions smooth friction at each stage of the lifecycle, enabling originators to optimize deal structures and time-to-market, rating agencies to conduct scenario analysis with greater precision and speed, and investors to find and run 360-degree risk assessments of relevant deals. Visit www.trexgroup.com to learn about our products for Structured Credit Markets and for Energy Project Finance.