Tastry Aims to Shape the Alcohol and Food Industries
AI company aims to shape the alcohol and food industries with the launch of new wine & food pairing platform.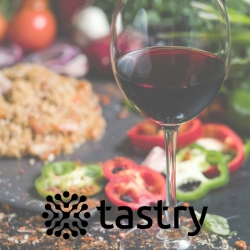 San Luis Obispo, CA, November 20, 2018 --(
PR.com
)-- Tastry, an AI company that uses flavor chemistry and machine learning to recommend products based on an individual's palate and preferences, announced today the launch of their food and recipe pairing platform.
Although food and wine pairing isn't a new concept, Tastry has identified drivers for a change in this sector both for the consumer and for food and CPG manufacturers. Their current wine recommendation platform has a proven 45% increase in consumer satisfaction and an average 3-5% lift in category sales for participating retailers.
Tastry's data can help manufacturers predict and develop delicious, memorable foods targeted for an individual as well as cut R&D costs and predict emerging wine and food trends per shopper both regionally and beyond. Their new food pairing and recipe platform will offer recommendations based on what bottle of wine is being purchased, the dish being served, and even the occasion for a gathering.
"We are excited about the launch of our new platform and the robust recommendations it will provide for customers," said Katerina Axelsson, CEO of Tastry. "We believe that this new platform will allow consumers, CPG developers, and retailers to have a very personalized and informative experience as we continue to grow and increase our market presence."
Tastry has plans in the near future to release a recommender in the cannabis sector and will be issuing details shortly. To receive this information upon release, email hello@tastry.com.
About Tastry:
An AI company based in San Luis Obispo, California, their patent-pending technology has the ability to evaluate consumer taste preferences to sensory-based products using analytical chemistry, machine learning, and AI. Tastry has accurately taught a computer how to taste. The technology serves retailers by providing science-based suggestions for product development, inventory purchase, and direct-to-consumer recommendation.
Contact
Tastry
Timothy Scott
(559) 666-4553
www.tastry.com
www.tastrysolutions.com

Contact