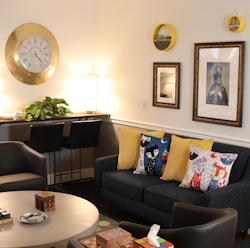 Bellevue, WA, November 22, 2018 --(
PR.com
)-- Bellevue Family Counseling, answering a strong demand for more child and teen counseling services, announces the doubling of its office space in Bellevue Washington. Located at 1601 116th Ave NE in Bellevue, the new suite 111 offers six new offices for child and teen counseling as well as parent coaching. The comfortably decorated offices open at the end of November 2018 and will join existing offices in the same building in suite 102.
Bellevue Family Counseling offers one to one counseling services to children, teens, adults, couples and parents. The new facility provides counseling support for children through teens, ages two to eighteen, as well as their family. Treatment typically addresses issues surrounding anxiety and depression.
"The new office give us the ability to serve a growing demand for our child therapy and teen counseling services," says Marlon Familton, lead relationship/marriage therapist and principal at Bellevue Family Counseling. "Anxiety continues to be an epidemic level problem with children and teens. We were at capacity for providing services to our existing clients while receiving daily requests for more. In creating this new space we are able to offer a warm and comfortable environment where more of our clients can enjoy the benefits of participating in counseling."
According to the Anxiety and Depression Association of American's website, "Anxiety disorders affect one in eight children. Research shows that untreated children with anxiety disorders are at higher risk to perform poorly in school, miss out on important social experiences, and engage in substance abuse." Early intervention means treating anxiety that is lower and therefore easier to eliminate.
"When your child is showing signs of anxiety, it can be incredibly frustrating as they withdraw or resist social activities, school or family engagement," says Leah Koenig, lead teen and parent coach and supervisor at Bellevue Family Counseling. "Experiential therapies such as play, sand and art therapy are very effective at reducing symptoms and giving children and teens a new way of solving problems."
The new office space brings the total up to over 3,400 square feet of offices. Located in the Campus Office Park in Bellevue Washington, traffic access is easy, there is ample free parking and the facility is an ADA compliant building.
To reach Bellevue Family Counseling, visit the website at
www.bellevuecounseling.net
.
Bellevue Family Counseling was founded in 2008 by Marlon Familton LMHC and Leah Koenig LMHC in Bellevue Washington. Providing expert counseling for children, teens, adults, relationships and parent coaching in Bellevue Washington, Bellevue Family Counseling is expanding to meet increased demands for its services.