Just Released: "Princess of Shadow and Dream," a Dark and Enchanting Fantasy by Ellie Raine
Announcing Ellie Raine's latest book: "Princess of Shadow and Dream." A necromancer Prince. A dream-walker Princess. When nightmares bring death, can she save his soul?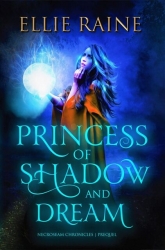 Atlanta, GA, November 23, 2018 --(
PR.com
)-- ScyntheFy Press announces the release of a new fantasy by Ellie Raine, an original new voice in the epic fantasy genre. "Princess of Shadow and Dream" is the prequel to the NecroSeam Chronicles series, a unique and action-packed fantasy of magic, romance, and mystery that will take readers on an exciting adventure they won't soon forget. The Royal Death family's dreams are put in danger when their hired Dreamcatchers go missing, and Prince Serdin suddenly finds himself targeted by dream-stalking demons. But his soul is saved by a powerful new mage... the Princess of Dreams herself. After living half a millennium in her father's timeless realm, Myra is excited to visit the physical plane of the shadowy Death kingdom. But, when she is asked to protect the Death Prince in his dreams, the two royals are surprised to share an unwelcome attraction. And now that demons have infiltrated Myra's metaphysical domain, the two must fight their nightmares in both realms.
Hurry now to buy Princess of Shadow and Dream Ebook at a Special Black Friday sale price of only $0.99 at Amazon.com.
The paperback format is also available at Amazon, Barnes & Noble and other bookstores for only $7.99.
About Ellie Raine
Ellie Raine is a lover of epic quests in all things--namely books and video games. That's why the NecroSeam Chronicles was originally intended to be a video game series, but after she went to the Art Institute of Atlanta to make that dream happen, she made the mistake of taking a creative writing class from which there was no return. Now, when she's not adventuring in her dreams, Ellie is half awake and conjuring fantastical quests of scythes, sorcery and battle-clad wonder. Fueled by passion fruit tea and coffee-bean concoctions, her stories and poems are as real to her as the physical plane she wanders through when her stomach demands it. She's a lover of ravens and a dreamer of dragons, but above all else, she is a scribe to the stories that guide her.
For more information on Ellie Raine, visit her author website at www.EllieRaine.com.
To find out more about the NecroSeam Chronicles Series, including special bonus features such as deleted scenes, music, artwork, and up-to-date news, visit the www.necroseam.com website.
Contact
ScyntheFy Press, LLC
Mary Giles
770-849-9396
scynthefy.com

Contact