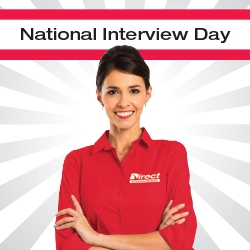 Nashville, TN, November 26, 2018 --(
PR.com
)-- Direct Auto & Life Insurance, a leading provider of personal auto insurance, life insurance, and vehicle and accident protection plans, is offering licensed insurance agents numerous career opportunities with benefits during National Interview Day.
The free, one-day hiring event will take place from 10 a.m.-7 p.m. on Wed., Dec. 5 at 15 participating store locations in Alabama, Arkansas, Florida, North Carolina, South Carolina, Tennessee, Texas and Virginia.
Applicants will have the opportunity to meet with the company's hiring team for an interview, learn about the business, and potentially be selected to receive an on-the-spot offer.
Benefits of working at the company include a competitive, comprehensive benefits and compensation package, bonus opportunities, career growth and advancement, work-life balance, paid training, no cold calling, no out-of-pocket licensing costs, and the opportunity to work for one of the largest automobile insurers in the country.
"We're excited to host National Interview Day to not only fill our immediate hiring needs in certain markets, but also to increase the employment opportunities in the communities where we live and work," says Ken Hampton, SVP of Retail Sales at Direct Auto & Life Insurance. "We're growing quickly at Direct, and this hiring event is symbolic of our expansion."
To learn more about National Interview Day visit:
https://blog.directgeneral.com/news-events/national-interview-day-december-2018/
Applicants are invited to bring their resume to one of the following store locations near them.
Participating Locations Confirmed for National Interview Day:
Birmingham, AL: 320 Palisades Blvd, Birmingham, AL 35209
Mobile, AL: 2753 Pleasant Valley Road, Mobile, AL 36606
Little Rock, AR: 10101 Mabelvale Plaza Drive, Suite 4, Little Rock, AR 72209
Fort Myers, FL: 5100 South Cleveland Ave, Suite 317, Fort Myers, FL 33907
Jacksonville, FL: 5808 Normandy Blvd, Suite 5, Jacksonville, FL 32205
Orlando, FL (East): 1313 West Oakridge Road, Orlando, FL 32809
Orlando, FL (West): 14187 West Colonial Drive, Winter Garden, FL 34787
Tampa, FL: 9340 North Florida Ave, Suite B, Tampa, FL 33612
Charlotte, NC: 6211 South Blvd, Charlotte, NC 28217
Charleston, SC: 5500 Rivers Ave, North Charleston, SC 29406
Memphis, TN: 2552 Covington Pk, Suite 103, Memphis, TN 38128
Nashville, TN: 1309 Bell Road, Suite 208, Antioch, TN 37013
Austin, TX: 1931 East Oltorf Street, Suite G, Austin, TX 78741
Waco, TX: 1428 Wooded Acres Drive, Suite 110, Waco, TX 76710
Norfolk, VA: 1736 East Little Creek Road, Suite A, Norfolk, VA 23518
About Direct Auto & Life Insurance:
Direct Auto & Life Insurance, headquartered in Nashville, TN, was founded in 1991 and has more than 400 retail locations across 13 Southeastern markets. Direct is a leading provider of personal auto insurance, life insurance, and vehicle and accident protection plans, and sells its products and services through its retail store outlets, by phone through its call center and via the Internet. Direct is owned by National General Holdings Corp., headquartered in New York City, a specialty personal lines insurance holding company. National General traces its roots to 1939, and has a financial strength rating of A- (excellent) from A.M. Best.