Disney Inspired Fashion Line Raises $10,000 for Boys & Girls Clubs
The Disney inspired fashion company raises funds to benefit underserved children through unique "virtual races."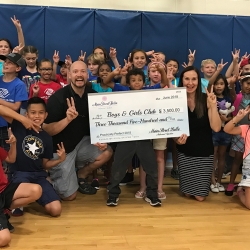 Boise, ID, December 01, 2018 --(
PR.com
)-- Founded on the values of gratitude and generosity, Main Street Bella is a whimsical fashion company committed to making the world a brighter place through its unique line of Disney inspired apparel and accessories. Aside from donating ten percent of every sale to local non-profit organizations, the company regularly hosts virtual fundraisers to further their impact in the community.
Main Street Bella has already raised over $8,000 this year to be donated to the Boys & Girls Club of Ada County, and are on track to hit $10,000 by the end of 2018. "They've been a wonderful partner for our organization and the 4,600 kids we serve in Treasure Valley," says Colleen Braga, Executive Director of the Boys & Girls Club of Ada County. "The funds donated by Main Street Bella are being used to give these kids access to a safe, fun environment before and after school."
Much like a traditional race event, participants purchase their registration online, select their "swag" rewards, and commit to running a 5k, 10k, 13.1 miles or 26.2 miles race during a specified time frame. After the week of the race, participants submit their running times to be added to the online leaderboard and are then eligible to receive their incentives.
"We believe generosity makes for the best business model and love to celebrate the magic of helping children," says Kit McKee, Creative Director of Main Street Bella. "It has been incredible to see how much we can raise as our virtual events get more and more popular. We want to have a lasting impact on our community and know this is only the beginning for Main Street Bella."
In addition to giving back, Main Street Bella prides itself on sourcing the best garment suppliers in the world to provide customers with premium quality apparel featuring thousands of original designs. Customers are prioritized with an 100% satisfaction guarantee, while team members are paid well and treated like family.
About Main Street Bella
Main Street Bella believes "it's more fun to be whimsical," so we create women's fashion and fitness products inspired by Disney. Every design is an original and made with premium materials and the greatest care. Founded in 2014 and nearly 20,000 products later, our customers have come to love Main Street Bella because they are just as passionate as we are about fun, cute apparel and giving back to the community.
To browse Main Street Bella:
https://mainstreetbella.com/
To join a Main Street Bella virtual race: https://mainstreetbella.com/pages/events
Press Kit:
https://mainstreetbella.com/pages/press-kit
Contact
Design Force Media
Kit McKee
208-718-1391
mainstreetbella.com
Press Kit: https://mainstreetbella.com/pages/press-kit

Contact