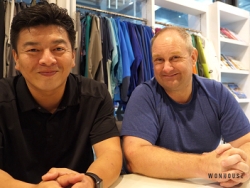 Los Angeles, CA, November 28, 2018 --(
PR.com
)-- Aaron Jackson, former director of raw material innovation at Lululemon, has been named the CEO of Won.House, a textile and apparel R&D and Think House based in Tao Yuan, Taiwan.
"This past four weeks has been very special with the successful installation or the KC2.2 machine and the first series of successful tests on nylons, polys, and at the time of this press release the successful testing of the new
Synatec™ Merino wool/ poly blend utilizing Kinetic Colorization™
a waterless eco friendly dye technology," stated Jackson.
"The successful setup of the KC2.2 machine at
Won.House
by Katmandu Inc. is the tip of the iceberg," stated Jenny Cho, VP of Won.House. This is a game changing technology purchased with the trademarks and patent rights from Katmandu Inc. The goal is to commercialize Kinetic Colorization™ over the next few years and it seems things are off to a very good start. Won.House announced it already has 5 plants sold in Taiwan, Vietnam, and China. The official launch date of Won.House is late April 2019 with a grand opening for guests coming in from all over the globe.
Won.House is a R&D and Think Tank that has been created to work with mills, brands and yarn companies worldwide on new yarns, fabrics, waterless color and dying utilizing Kinetic Colorization™, seamless garments and double-sided garments and all eco-friendly apparel.
Waterless coloring on the fly is the future and the future is now, no more pollution of our waters, no more harmful chemicals in the second dirtiest industry in the world.
There are more than 10 companies that have expressed strong interest in these machines and 3 who have placed pre-orders to be the fist to get deliveries in 2019.
"Being able to dye Nylons and wools on the fly with a fraction of the MOQs is also a game changer," said Murphy Chung the CEO of TSGS. "With the successful setup the
Kinetic Colorization
™ machine Won.House is doing a great deal of testing on a variety of fabrics creating a formulation book and Won.House will be selling Kinetic Colorization™ machines worldwide starting at the end of QI or start of Q2 of 2019," stated Aaron Jackson, CEO of Won.House.
A grand opening with companies from all over the Far East, North America, Latin America and the EU will be invited to tour and understand the concept of Won.House and see KC2.2 themselves and how it can be utilized in demand manufacturing.