With Support from the European Union, CEQ Italia and QvExtra! International Join Forces to Raise Awareness of What Distinguishes Quality European Extra Virgin Olive Oil
Two non-profit consortia, passionately dedicated to raising the standards of extra virgin olive oil produced in Spain and Italy respectively, QVExtra! International and CEQ Italia, have joined forces in a special campaign to share this knowledge with chefs and consumers. Spain and Italy - two of the best-known producers of high-quality extra virgin olive oil - possess a vast knowledge about what is superior EVOO. The initiative is financed by the EU.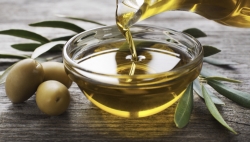 New York, NY, December 03, 2018 --(
PR.com
)-- Most Americans already love extra virgin olive oil (EVOO) for its flavor and versatility. But not all of them are aware of the range of flavors and quality that extra virgin olive oils can possess, based on how its produced and stored, the varietal of olives or where it originates.
They may not know how to distinguish the best quality extra virgin olive oils (especially in an ordinary grocery store) or the best way to cook with it. And above all, they may not know what they are missing.
Two non-profit consortia, passionately dedicated to raising the standards of extra virgin olive oil produced in Spain and Italy respectively, QVExtra! International and CEQ Italia, have joined forces in a special campaign to share this knowledge with chefs and consumers in the U.S. Spain and Italy - two of the best-known producers of high-quality extra virgin olive oil - share a vast storehouse of knowledge about what makes great olive oil, and how to make it even better. The initiative is financed with aid from the European Union, which supports ventures that promote high quality agricultural products.
The friendly competition between members of the European Union and the producers, pushes all members to continue to improve and raise their standards. As part of their mission, they also educate culinary professionals and consumers about production and authenticity through a series of lectures, demonstrations and tastings.
This Fall, in a series of seminars in Boston, Providence, and New York, olive oil expert Marco Petrini discussed production methods and standards, benefits and the role of extra virgin olive oil in the Mediterranean diet, key elements in determining quality, how terroir influences flavor profiles, and how to cook with EVOO.
Depending on the variety, the extra virgin olive oil has its own distinct character – fruity or aromatic, sweet or bitter, with differing intensity of the spicy aftertaste.
These extra virgin olive oils all have their own nuances, contrasts and flavors, but what they have in common is that their production has been closely controlled – from the flower to the bottle – with the main aim of providing the highest possible quality. Petrini was joined by EVOO experts Alfonso Fernández López from Spain and Natalia Ravida from Italy.
There were also cooking demonstrations as part of these seminars: Italian Culinary Expert and Iron Chef America Judge, Mario Rizzotti, and Spanish chef Antonio Ortuño collaborated on a special menu that explores specific pairings, preparing several dishes each - using oils with a range of flavor profiles from mild to spicy.
The seminars were interactive: culinary students and industry professionals had the opportunity to taste different EVOOs, taste dishes that the chefs prepared, and ask questions. Activities for attendees included developing, implementing, and discussing their own recipes.
In addition, they will be asked to complete a questionnaire to evaluate their knowledge of basic facts before and after the training.
Schedule of EVOO Outreach
Cambridge School of Culinary Art
CSCA is an iconic New England landmark, and for more than 40 years has been highly acclaimed among the nation's premier culinary schools. http://cambridgeculinary.com/
Address: 2020 Massachusetts Ave, Cambridge, MA 02140
Seminar: Monday, November 12 attracted a robust and interested audience of culinary enthusiasts.
On Sunday, November 11, there was an in-store tasting at Eataly Boston (Prudential Center, 800 Boylston St, Boston, MA 02199), from 4 pm – 6 pm, that attracting throngs of interested foodies and cooks.
Johnson & Wales (JWU)
Johnson & Wales University (JWU) is a private, nonprofit, accredited institution with more than 14,000 graduate, undergraduate and online students at its four campuses in Providence, Rhode Island; North Miami, Florida; Denver, Colorado; and Charlotte, North Carolina. https://www.jwu.edu/academics/colleges/college-of-culinary-arts.html
Address: 265 Harborside Blvd., Providence, RI 02905
Seminar #1: Wednesday, November 14 at 11:30 am
Seminar #2: Wednesday, November 14 at 1:45 pm
The Seminars at JWU attracted more than 100 students at the two sessions.
Dinner: A dinner was hosted at Sarto, a new restaurant led by Chef Robert Andreozzi, a 2012 graduate of JWU Denver, who worked at Del Posto, Frasca, and Blue Hill Stone Barns. Sarto is located at 86 Dorrance Street, Providence.
Thursday, November 15, there was an in-store tasting at Eataly, downtown, NYC featuring extra virgin olive oil tastings.
International Culinary Center (ICC)
Formerly known as The French Culinary Institute, the International Culinary Center© is a global leader in professional culinary, pastry and wine education. ICC's mission is to train the next generation of culinary leaders and innovators, providing them with the credentials, confidence and connections to succeed in the food & wine industry. With this mission in mind, they've partnered with the Olive Oil Times Education Lab to develop the Olive Oil Sommelier Certification program. This two-course certification program brings the world's foremost olive oil experts and educators together for courses spanning production, quality management, and advanced sensory assessment of olive oils and its application in gastronomy, culture, and health.
Address: 462 Broadway NY, NY 10013 (Between Broadway and Spring Street), 2nd Floor
Seminar for Culinary Students: Friday, November 16 from 3:15 pm to 5:15 pm
Dinner: Friday, November 16 - ICC dining room, featuring an open kitchen
CEQ Italia, Consorzio di garanzia dell'olio extra vergine di oliva di qualità, http://ceqitalia.com/it/, promotes the culture of Italian extra virgin olive oil, guaranteeing quality by supporting initiatives and programs that advance research and quality improvement. They maintain that quality can only be guaranteed where there is close cooperation between producers, bottlers, distributors and retailers and careful monitoring by independent experts and laboratories, including compliance with consortium procedures, checks on quality and authenticity, traceability and documentation. Members adhere to strict guidelines to maintain their standing in the consortium. In addition, the consortium provides transparent and objective connection concerning the relationship between quality and price, that can be clearly explained to the consumer.
QVExtra! International, http://www.qvextra.es/, is a private non-profit organization whose aim is to promote competitiveness among producers of Spanish extra virgin olive oil, thus fostering a quality culture among its members and making this known to the consumer. QvExtra! olive oils are top of the range, rich, fruity, tangy and of exceptional quality. QvExtra! awards an international seal of quality for extra virgin olive oil which meets all the chemical, physical and sensorial requirements agreed by the association. The quality requirements are even stricter than those established by the current legislation. QvExtra! currently has over 50 brands of extra virgin olive oil.
Alfonso Fernández López, owner and founder of Sabor de España, is an international trader of the finest foods from Spain, including Extra Virgin Olive Oil, handmade EVOO crackers, and Spanish-infused truffle EVOO. The "biggest competitor to olive oil is ignorance," he says and thus, education is one of his primary goals. He has instructed journalists, chefs and their teams, culinary students from Spain and around the world, and at places such as Jaleo and Bazaar (by Jose Andres), New York Times headquarter, and the Google office in Manhattan.
Chef Antonio Ortuño is a Spanish chef who works as a private chef in New York, focused on traditional Spanish, Mediterranean and healthy food with a contemporary touch. His roots are in the Western Mediterranean Coast (Alicante), where he was born. He is a contributing chef at FoodChannel.com and has cooked for many pop-up events including Almodovar's Night, a MoMA retrospective and "Spain to Table" in Tokyo.
Marco Petrini, president of Monini USA, manages the U.S. market introduction and growth of Monini NA, distinguishing the Italian EVOO brand through its superior quality and cultural pedigree. He identified the need to create awareness, educate, and communicate the taste and nutritional benefits of EVOO through consistent outreach to culinary professionals. He has been recognized by the American Culinary Foundation with an Honorary Degree in Culinary Arts and holds a Diploma from the Olive Oil Tasting Panel Association MICO (Tuscany). He has been a guest lecturer at Johnson & Wales University.
Natalia Ravida is president and owner of RAVIDA' Azienda Agricola, an Italian olive oil producer. She left a career as an international print, radio and television journalist, to develop a quality olive oil brand, RAVIDA, out of the oil produced on the family estate in Menfi, Sicily. Natalia works full time in her family's olive oil business, combining brand promotion with farm tours, olive oil tastings and cooking classes. She is the author of a cookbook, "Seasons of Sicily."
Mario Rizzotti is an Italian culinary expert, TV personality and brand ambassador. He is a judge for Iron Chef America. He most recently judged Michael Symon, Marc Forgione, Bobby Flay and others. Mario travels around the US to educate Americans on the many differences in EVOO and on how to taste it the professional way: no bread allowed. He has been seen alongside celebrity chef Art Smith, Food Network star Ted Allen, Vogue Food Critic Jeffrey Steingarten, Martin Yan, and many others.
The content of this press release represents the views of the author only and is his/her sole responsibility. The European Commission and the Consumers, Health, Agriculture and Food Executive Agency (CHAFEA) do not accept any responsibility for any use that may be made of the information it contains.
Press Contact:
Leeann Lavin: foodanddrinkny@gmail.com
Donna Austi: donnaausti@yahoo.com
Denise Capuano: deecapcomm@gmail.com
Contact
Duchess Designs
Leeann Lavin
732-500-7121
http://gardenglamour-duchessdesigns.blogspot.com/
foodanddrinkny@gmail.com

Contact