16-Year-Old Launches Financial Advisory Program
Lovejit Gill, Delhi High School student, recently launched a financial advising program for local community members, teaching skills in personal wealth management.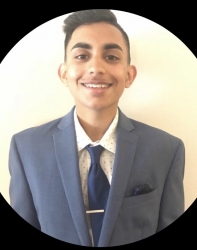 Modesto, CA, December 10, 2018 --(
PR.com
)-- Delhi High School student Lovejit Gill, 16, founded a non-profit initiative called Finlify while in high school, designed to teach community members as young as 8-years-old to 45-years-old, how to manage their wealth and live within their means.
As an aspiring financial advisor, his passion for finance drove him to create an environment in which he can share his knowledge and encourage the people in his community to improve their financial skills.
Finlify came to fruition when Lovejit identified the need to educate people on what true wealth means, its mission being to teach people about passive income streams.
With the combination of his passion for finance, and the community's need for information on wealth management, Lovejit founded Finlify with the help from
Crimson Education
's leadership mentoring support, and has so far delivered a series of eight workshops designed to help participants "realize how to build long term wealth and the common mistakes people often make," he said.
"When I was a little kid, I saw how adults would spend money on materialistic things and wouldn't live within their means. It seemed as though they were trying to appear rich instead of being rich. And that's the reason why I started the organization, to close the wealth inequality gap," Lovejit says.
With the younger age groups, Lovejit says he caters his workshops to match their needs more directly. "Younger children won't know about the complex stock market," he says, so he designed and delivered workshops teaching children how to create a budget report and to monitor money that is being spent.
Lovejit was inspired to bring his initiative to the community after winning a regional finance competition in 2017. "Last year I competed in Future Business Leaders of America (FBLA) and I placed first in the personal finance regional competition.
"Afterwards I thought 'what can I do with all this knowledge to help the community?' So I contacted local churches and they liked the initiative, and I just started from there," Lovejit says.
Finlify's inspiration comes from familial support and finance moguls like Warren Buffett. Lovejit's older siblings instilled a drive in him to make him want to be better and plan for a future that fosters good habits, is humble, and filled with hard work.
He aims to attend a school like Wharton, where he can build his network of connections and accumulate experience to eventually start his own hedge fund or private equity firm.
Crimson Education
, a personalized education and mentoring company are providing Lovejit with mentoring to help him discover his interests and pursue studies at a top-ranked university.
"Over the years, we have seen that students do best throughout high school and in college admissions when they pursue extracurriculars they are passionate about," said Anjali Bhatia, a Wharton MBA grad who is the U.S. Head of Crimson Education.
"Lovejit is an excellent example of someone who truly loves and understands the ins and outs of finance and has looked to share that knowledge with the community."
Lovejit's Crimson Extracurricular Mentor, Naina Mishra, who is currently studying Learning and Organizational Change and Economics at Northwestern University, says the process has been a rewarding one. Together, they set goals, established partnerships, created a marketing plan and implementation roadmap.
"Lovejit is very enthusiastic about finance and eager to use his financial knowledge to positively impact others. He's always buzzing with new ideas, and he takes the initiative to implement each of them."
During the school year, Lovejit keeps abreast with finance industry news and continues to build his knowledge by watching TED Talks and competing in FBLA conferences focusing on personal finance. He works diligently to fulfill his leadership roles, creating a meaningful environment that is a productive use of his time.
Moving forward with Finlify, Lovejit is focusing on his future education and career, but would like to expand his workshops and do a tour of the Silicon Valley.
For more information regarding the program and how to get involved, please visit www.finlify.com.
Lovejit's initiatives were supported by Crimson Education, an education consultancy company, with over 2,300 tutors and mentors based at the world's top-ranked universities. Crimson provides support to students across academic tutoring, standardized test prep, leadership and extracurricular mentoring and university admissions consulting.
Contact
Crimson Education
Amanda Jones
650-930-0003
crimsoneducation.org/us

Contact