SportsEdTV Offers High School Tennis Players a Chance to Win a Grand-Slam Coaching Day
SportsEdTV launches a WATCH & WIN promotion with a grand prize of a coaching day with Australian Open Doubles Champion, Ellis Ferreira.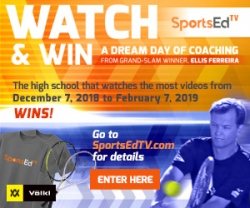 Miami, FL, December 07, 2018 --(
PR.com
)-- SportsEdTV is giving a dream day of coaching with two-time Australian Open winner, Ellis Ferreira, to the high school that watches the most videos on SportsEdTV between December 7, 2018 and February 7, 2019. High school tennis players, and their friends and family who enter the contest, can also win one of 10 Volkl tennis racquets and one of 150 SportsEdTV t-shirts.
"High school tennis is an important part of the tennis landscape in the United States, and it doesn't always get the attention it deserves," said SportsEdTV Co-Founder and Director of Tennis, John Eagleton. He added, "We want to support the players, coaches and families by giving them a chance to win a dream coaching day that would be impossible for most high school tennis players to ever get. Who wouldn't want a grand-slam winner coaching their high school team for a day? It's a chance of a lifetime."
"I'm excited to help SportsEdTV bring this opportunity to a high school team," said Ellis Ferreira, two-time Australian Open champion. He added, "Good coaching can really separate players at this age, and the best athletes don't always get the best coaching. I'm always ready to share what I learned as a professional tennis player with others looking to improve. Many of these high school players are playing for fun, but some want to get a scholarship to college or turn pro some day. I want to help them."
The WATCH & WIN promotion kicks off on December 7, 2018 and runs through February 7, 2019. To enter, players, coaches and anyone trying to help their high school win can go to www.sportsedtv.com and click the enter button on the home or landing page. In addition to possibly winning the coaching day, SportsEdTV is giving away 10 Volkl tennis racquets and 150 SportsEdTV t-shirts. There is no limit to how often a person can enter, and the more visits they make to SportsEdTV to watch videos, the better the chances of winning.
About SportsEdTV: SportsEdTV.com provides free, world-class,
online video instruction
in over thirty sports. Our expert coaches teach technique, strategy, tactics, strength and conditioning, nutrition, mental toughness, and the unique lifestyle complexities of being an athlete to competitors and sport participants at all levels, from beginner through professional. Everyone can improve by watching our videos. Our "tips of the day" and video analysis of great champions are insightful, and viewers can enjoy our fun "play of the day" features and global news updates on their favorite sports, teams and events. It's great for athletes, coaches and parents looking for an edge. #
Contact
SportsEdTV
Robert Mazzucchelli
+1-917-822-4828
www.sportsedtv.com

Contact