World Famous Randy's Donuts Opens on Hollywood Walk of Stars
World Famous Randy's Donuts Opens on Hollywood Blvd. December 10th; The Hollywood location will have a giant 18" wide donut that guests walk through to enter the store, a signature Hollywood Star shaped donut and a Pop Culture wall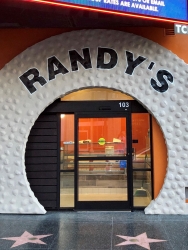 Hollywood, CA, December 10, 2018 --(
PR.com
)-- Hollywood & Highland, Los Angeles' iconic shopping, dining, and entertainment destination, reveals its newest retailer, Randy's Donuts, a beloved Los Angeles-based bakery that serves up to 40 different varieties of donuts, fritters and cinnamon rolls. Opening on Monday, December 10, 2018, the newest Randy's Donuts shop features an 18-foot-wide, donut-shaped entrance, a Pop Culture mural inside and the Hollywood Star donut, which is exclusively available at Hollywood & Highland.
For over 50 years, Randy's Donuts prides itself on using only the finest baking ingredients in the world to make each donut by hand daily. Expert bakers combine secret mixes to produce donuts that are fluffier, airier, larger, and stay fresh longer. "We never skimp on icing, glaze, sprinkles, or other decorations," says Mark Kelegian, CEO and owner of Randy's Donuts. "We go over the top to put as much chocolate, maple, cream filling, or other toppings as the donuts can possibly hold." Randy's Donuts also offers a great value for families and businesses with glazed donuts, twists, chocolate raised, cinnamon rolls, apple fritters, and more priced at or below the competition.
Randy's Donuts invites and encourages Angelenos to take photos of the newest Hollywood & Highland location, which includes an Instagram-worthy 18-foot-wide donut opening, Pop Culture mural and Hollywood Star donut, a nod to the famous Hollywood Walk of Fame stars located directly outside the storefront.
Randy's Donuts joins Hollywood & Highland's diverse list of new tenants, including Japan House Los Angeles, Foot Locker with Six:02, and Quay Australia along with other contemporary fashion and beauty brands, boutique cafes, eateries and entertainment attractions. Hollywood & Highland also recently introduced the VIP ACCESS card, which extends discounts to 18 of the center's retailers and is available to all guests upon request at the Visitor's Center on Level 2.
Randy's Donuts will be open from 8 a.m. to 10 p.m. on Sunday-Thursday and 8 a.m. to midnight on Friday-Saturday. For more information, please visit www.randysdonuts.com. Follow Randy's Donuts on Instagram @RandysdonutsLA, on Facebook at www.facebook.com/RandysDonutsLA and Twitter @RandysdonutsLA
About Randy's Donuts
Randy's is widely recognized as one of the most iconic locations in Los Angeles attracting visitors from around the world to take pictures of the giant rooftop donut and enjoy the best donuts in the world! Always a line, but always worth the wait!
No doubt you immediately recognize the landmark building from its many appearances in movies such as: Iron Man II, Entourage, Dope, Californication, California Girls, 2012, Earth Girls Are Easy, Mars Attacks!, Volcano, Get Shorty, Crocodile Dundee in Los Angeles. Randy's Donuts is also well known for its references and appearances on Tonight Show with Jimmy Fallon, Big Bang Theory, The Simpsons, Arrested Development, Victorious, and many others. It is also featured in music videos including Randy Newman's "I Love L.A.", Red Hot Chili Peppers' "Californication," and Becky G's "Becky from the Block."
Of course, to stand the test of time, it is not enough to be an iconic tourist attraction, you must have the best donuts. In addition to being the most reviewed and highest rated donut shop on Yelp, and other social media sites, Randy's has been named a Top Spot for donuts in the United States for over 50 years; including: Los Angeles Hot List #1 for Best Donuts 2014, 2013, 2012, 2011, and more; #1 on Bon Appetit's Top 10 Best Places for Donuts; #7 on America's Best Donuts – The Master List; USA Today's America's 12 Best Donut Shops; Travel & Leisure – America's Best Donuts; Fox News America's Best Donut Shops; CBS News Latest Best of LA Best Places to Get Donuts in Los Angeles 2015; America's 10 Best Donut Shops – relish.com; The 9 Best Donuts in Los Angeles (#1 Classic) – thrillist.com; and many more.
About Hollywood & Highland
Hollywood & Highland is Los Angeles' modern shopping, dining and entertainment destination for both locals and tourists located on the iconic Hollywood Boulevard. Hollywood & Highland features contemporary fashion and beauty brands, boutique cafes and eateries, and entertainment attractions with direct access to all that Los Angeles has to offer. Follow Hollywood & Highland on Twitter at @HandHCenter; on Instagram at @hollywoodandhighland; or on Facebook at www.facebook.com/HollywoodandHighland.
Media Contacts:
Mark Kelegian, Nicolette Kelegian, Thomas Bartsch & Samara Friedman
mark@randysdonuts.com
nicolette@randysdonuts.com
thomas@randysdonuts.com
Samara@randysdonuts.com
Contact
Randy's Donuts
Thomas Bartsch
323-868-2404
randysdonuts.com

Contact