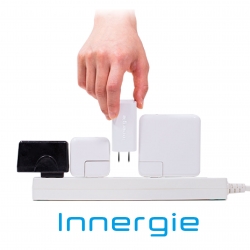 Taipei, Taiwan, December 11, 2018 --(
PR.com
)-- Launched on December 1, 2018, Innergie 60C has already achieved impressive success. Innergie 60C, currently available through
Amazon
for $119 US, is a small and powerful
USB-C Laptop Adaptor
with power delivery technology and interchangeable plugs for global use. Ultra-compact, it can fast charge most mobile devices and is compatible with MacBook Pro. Its sophisticated circuitry with micro-reduction techniques offers maximum energy protection for all of the devices using it. Innergie 60C is small enough to fit in a purse or pocket and is extremely light (<88g).
Power delivery technology means that Innergie 60C can charge an iPhone to 50% in 30 minutes and any of the MacBook series of laptops in just 90 minutes. It also comes equipped with five different outputs: 5V, 9V, 12V, 15V, and 20V, thus providing optimum power to whichever device it is being used with. This tiny, innovative adaptor will be a real game changer. Innergie 60C comes in two versions, US and international, and will be sold as a set with the MagiCable 150.
Innergie launched the 60C with a promotional campaign on its landing page, offering discounts and special offers to "earlybird" purchasers; this promotion, which ended December 9, had proven to be a huge success. However, it is not too late to save on your purchase of Innergie 60C; Innergie is currently offering a promotion code for buyers reading this release:
PRNEWS05
.
Innergie 60C has won more than 29 awards to date, including Computex Best Reward, International Design Excellence Awards, and the Golden Pin Design Reward. Act today to obtain your own pocket-sized powerhouse.
Press Contact:
Regina Lin
Phone: +886 923520025
Email: regina@primeplus.business
Website: https://primeplus.business/#home