Muse Illuminate, the Ultimate Personal Development Monthly Kit
Muse Illuminate Launches with First Monthly Subscription Box; Personal development platform delivers seminar experience to subscribers' doors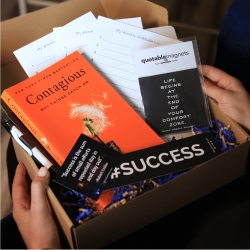 Sherman Oaks, CA, December 14, 2018 --(
PR.com
)-- Muse Illuminate, a new service providing personal development resources, literature and online training opportunities to individuals, is pleased to announce the upcoming shipment of its second monthly subscription box on December 18.
More than a year in the making, Muse Illuminate officially launched on November 1 and is offering an array of resources through its subscription boxes in an effort to help individuals stay focused on their goals and aspirations. Boxes will ship on or around the 18th of each month going forward.
The company's founders, Anna Kocharian and Edita Armatuni, seek to help individuals become the best versions of themselves through motivational and informative literature, personalized growth tools, exclusive items and more. Both founders have backgrounds in business, finance, and marketing.
Each month, Muse Illuminate subscribers will receive a New York Times bestselling personal development book, workbooks, activity sheets and three to five unique "bookish" items. In addition, Muse Illuminate members will have exclusive access to webinars, podcasts and training opportunities to motivate and assist in such areas as personal growth and development, leadership development, sales training, and start-up business training.
"We are so excited to begin shipping the first set of personalized subscription boxes to our members," said Kocharian. "Edita and I envisioned these boxes as a way to help people move toward their goals with a strong sense of purpose and direction, and with the self-awareness that we can all gain through learning from the experts."
Muse Illuminate prides itself on providing a solution that takes full advantage of the convenience and ease offered by the internet. Those interested in subscribing simply visit the company's website, choose their subscription terms (available options include month-to-month and three- and six-month prepaid subscriptions), complete a questionnaire that gives Muse Illuminate critical insight into their goals and needs which allows the company to tailor the contents of the subscription box to each individual member.
"We're really aiming to provide the equivalent of a professional seminar experience each month through the content of the subscription box," said Kocharian. "We want to see our subscribers achieve success and find happiness as individuals, and we're here to help them stay focused and motivated every step of the way."
About Muse Illuminate
Muse Illuminate is a company on a mission to help guide people along their path to fulfillment and success. The company understands that quality mentorship and guidance are key to personal growth and development, and is excited to share tools, knowledge, and wisdom through its monthly subscription boxes. To learn more about Muse Illuminate or choose a subscription plan, visit https://museilluminate.com/.
Contact
Muse Illuminate
Anna Kocharian
818-802-6008
museilluminate.com

Contact