Bringing Craftsmanship and Innovation Together: GSB Digital Acquires Aldine Printing
Family business completes transition from ownership with sale of business to GSB Digital. Effective December 19, 2018, GSB Digital has acquired selected assets of Aldine Printing, Inc. and will assume the manufacturing for the customers of Aldine.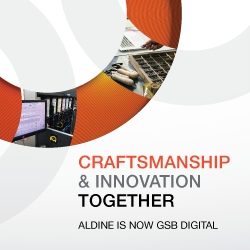 Long Island City, NY, December 21, 2018 --(
PR.com
)-- GSB Digital, a trusted print and litigation support service provider located in the New York City area, announced today that they have acquired selected assets of Aldine Printing, Inc. and will assume the manufacturing for the customers of Aldine, a luxury specialty printing company also located in the New York City area. This purchase supports GSB Digital's vision towards a complete print solution approach by bringing together the craftsmanship of traditional print methods with their innovative digital printing counterparts.
GSB Digital's President, Stephan Steiner, and Aldine's CEO, Greg Zuniss have a long-standing business relationship. Collaborating frequently, the two share a common pride and perseverance of running a family business and creating a quality product. The Zuniss family looked to GSB Digital to achieve a graceful exit from ownership, and pave the way for retirement of Alan Zuniss, who founded the business over 35 years ago, knowing that GSB will be able to maintain a sustainable and profitable manufacturing processes long-term. Greg specifically wanted to target another print provider who would ensure their employees would retain their position and that their customers would continue to receive uninterrupted quality service.
"With many significant synergies between us, the addition of Aldine's capabilities and staff will lead GSB Digital to become a larger and stronger organization," noted Stephan Steiner. "GSB Digital is already a place where innovation and craftsmanship coexist. Our acquisition of Aldine's assets and their traditional print and finishing processes only solidifies our mission to aid in our client's success while providing a range of complementary and extended print services."
Effective immediately, the Aldine business will work under the name GSB Digital as a new division. The operation will relocate from lower Manhattan and join the GSB Digital facility in Long Island City over the next few weeks.
"This is a great example of a leading company such as GSB Digital focusing on valuable customer relationships and exceptional market presence as the drivers of growth," said John Hyde, Esq, Director, Graphic Arts Advisors, LLC, who advised Aldine on the M&A transaction.
"Aldine has always had a strong reputation for craftsmanship, producing some of the finest printed material in the New York City marketplace. Customers expect this level of quality and nothing less. This will not change. Even though we are now part of GSB Digital, we will communicate to the customer base that they will have the same people and processes producing the same quality product as they did before," remarked Greg Zuniss.
About GSB Digital (www.gsbdigital.com) GSB Digital has been in operation for the last 27 years. Comprised of four business areas: Digital, Legal, Traditional, and Large Format, their offering of sophisticated print technologies and techniques make print communications unique. With locations in Manhattan and Long Island City, services include all aspects of print from marketing collateral to large format wall graphics. This includes technologies such as variable data, cross media marketing, personalization, and web 2 print solutions. Additionally, through GSB Digital's legal division they provide ligation support and ESI/EDD (electronic document discovery) services, including legal hold, collections, key word search, OCR, CD/DVD duplication, hosting, scanning, and copying.
Contact
GSB Digital
Jessica Andersen
212-500-6504
https://gsbdigital.com

Contact