The Unicork Unicorn Bottle Opener & Corkscrew Brings a Smile While Opening Beer & Wine in Time for Christmas
Kirk McGinnis and Digital Airships LLC launch their first product, the Unicork, a fun unicorn bottle opener and corkscrew intended as a sturdy decoration that is also functional. The creator discusses the inspiration for the item as well as how it differentiates from the competition.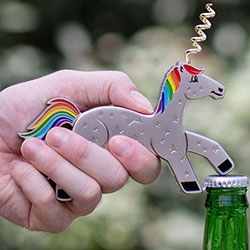 Oklahoma City, OK, December 19, 2018 --(
PR.com
)-- The creatively named Unicork, the
novelty unicorn bottle opener and corkscrew
, has launched in time for Christmas 2018 by its creator Kirk McGinnis and his company Digital Airships LLC. This is the first product that Mr. McGinnis has manufactured and he says his goal was to create something fun and simple that would make people smile while performing a useful function. He thinks the Unicork has achieved that goal and that sales on Amazon.com and https://Unicork.io, the company's primary online store for the product, appear to support this. "I got the idea when trying to brainstorm a simple product I could make and I kept coming back to bottle openers. In particular, the vision of a corkscrew as a unicorn horn kept coming back to me. Since unicorns have been growing in popularity and the name 'Unicork' fit too perfectly I just couldn't resist," says Mr. McGinnis.
When compared with other unicorn corkscrews and bottle openers the Unicork might seem pricey, but its competitors lack many of the features of the Unicork and are also composed of cheaper materials. "I wanted to create a more high-end decorative item that solved a lot of the problems I found in alternative versions," Mr. McGinnis said. Most competing items are made from cheaper plastic or wood with none of the same color or detail as the Unicork. At a solid 1.2 pounds of metal, the Unicork feels substantial to hold. It is also capable of opening both beer and wine while alternatives typically only perform one of these functions. In addition, Mr. McGinnis says that competing alternatives commonly have complaints of detaching corkscrews, but that the Unicork's gold-colored corkscrew is screwed in with an aircraft-grade adhesive that is unlikely to break. The Unicork is further backed by a 30-day guarantee. In the unlikely event of a defect it can be replaced or returned for a refund.
As a full-bodied prancing rainbow unicorn, the Unicork makes a whimsical and unique decoration for wine drinkers, unicorn lovers and anyone who enjoys novelty items. Competing alternatives are mostly disembodied unicorn heads, but by using the full body, the Unicork enables a design that provides a much larger hand grip for greater comfort and leverage. "While I recognize that many people would rather open a wine bottle the easy way, we've tried to make something that fits the unicorn niche while still being relatively easy to use for its design. Plus its decorative appeal and use as a beer bottle opener provide extra value that our current customers seem to appreciate," says McGinnis.
Mr. McGinnis says he has additional fantasy related home and wine accessories planned and hopes the response to the Unicork can justify further development on a line of Unicork products. The bottle opener comes in a sturdy gift box and is targeted as a beer or wine accessory gift item. The Unicork has already received "Amazon's Choice" designation for searches of "unicorn corkscrew" on Amazon.com and can also be found at the main website https://Unicork.io.
Contact
Digital Airships LLC
Kirk McGinnis
1-877-449-2878
https://digitalairships.com

Contact