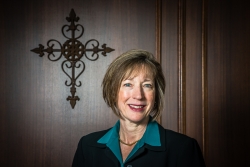 Lancaster, PA, December 19, 2018 --(
PR.com
)-- Lancaster Theological Seminary, a graduate school of theology known for academic excellence, has received a $100,000 grant from The Powder Mill Foundation of York, Pennsylvania, to support scholarships and field education programs in York County.
The grant will help to support Lancaster Seminary's Empowering Religious Leadership in York County, a project designed to provide tuition assistance to individuals who attend Lancaster Seminary from the York area and provide stipends to seminarians who work at York area churches and nonprofit community organizations as part of their field education requirement. During the academic year, Lancaster Seminary students typically complete 250+ hours of on-site field education work at churches and community nonprofit organizations.
The Lancaster Seminary scholarships and stipends will be available to students who come from any Christian tradition within the York area. The field education churches will be selected from any of the more than 15 denominations in the York area. The field education nonprofit locations will be selected from the human-service organizations in the York area that meet eligibility standards.
Lancaster Theological Seminary President Carol E. Lytch said, "We are grateful to the Powder Mill Foundation for its support of Lancaster Seminary's efforts to help put a quality graduate education within the reach of those who are called to serve God and the community. The field education stipends for Lancaster Seminary students will help to ensure that the York community continues to benefit from the seminarians' service."