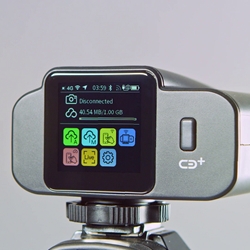 Boston, MA, December 21, 2018 --(
PR.com
)-- Many cameras don't come with smart features and can't connect with some of the most in-demand apps photographers use. With CamBuddy Plus, users simply connect the streamlined device and enjoy an array of rich features that optimize the photography experience. For example, CamBuddy Plus lets photographers upload their RAW photos with GPS tagging to their favorite cloud services. If a photographer uses CamBuddy Plus to upload images from a wedding shoot, for instance, they can show their client the images almost instantly on virtually any device. With real-time backup and auto upload, CamBuddy Plus takes care of vital tasks seamlessly.
In addition, photographers can control certain cameras and adjust shooting parameters using CamBuddy Plus. Aperture, ISO, white balance, auto-focus, and more can be controlled with the touch of a button.
The CamBuddy Plus is compatible with many cameras, including Nikon and Canon models, and photographers can check their cameras compatibility directly from the Kickstarter campaign.
The CamBuddy Plus is a new version of the CamBuddy Pro, which also funded successfully on Kickstarter. The new model includes features that CamBuddy backers and supporters suggested, and, according to the team at CamBuddy, they will continue to be an open community taking advice from their customers.
The Kickstarter campaign aims to raise $40,000 and has already raised quite a bit. Backers are receiving a number of exclusive perks, such as their own CamBuddy Plus and data and charging cables. Perks are scheduled to be delivered in June 2019. Details can be found at
CamBuddy Plus's Kickstarter Page
.