Immortal Works Press Releases Time-Bending Snow White Retelling
"Shattered Snow" is a YA science-fiction retelling of Snow White, featuring time travel. It is based on the real-life history of Margaretha von Waldeck, a sixteenth-century countess that may have inspired the Grimm brothers' fairy tale.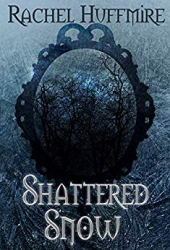 Salt Lake City, UT, January 16, 2019 --(
PR.com
)-- Even after hundreds of years of telling and retelling our favorite fairy tales, they continue to capture the public imagination. Snow White, in particular, has been made into countless animated and live-action films, picture books, novelizations, and even a popular television series. Surely it has been dissected and retold from so many angles that no one can bring anything new to the story.
That is where you would be wrong. Enter Rachel Huffmire and her Amazon #1 Bestseller, "Shattered Snow." In addition to charming characters and excellent writing, Ms. Huffmire's treatment of this classic fairy tale features an unexpected element: time travel. And it works surprisingly well. Ms. Huffmire says, "Snow White is likely based on a real German countess, Margaretha Von Waldeck, who was poisoned at the age of 21. It was an added bonus that time travel seemed to fit so well into the folktale. In fact, a lot of fairy tales have hints of time travel in them."
The enthusiastic response to her work speaks for itself. Within 24 hours of release, "Shattered Snow" hit #1 in Amazon's Fairy Tales category and #9 in Time Travel. "Shattered Snow" has sold copies not only in the United States, but in the United Kingdom and Australia as well. Ms. Huffmire says, "I had personal queries about availability from people in Denmark, France, India, Sweden, and the Netherlands. One girl from England said there was a local seller there who sold out of copies, and wondered when the new shipment would be in."
"After I had the idea for 'Shattered Snow,'" Ms. Huffmire continues, "I felt excited to see how many folktales are rooted in real-life stores." Her next project? A similar retelling of Sleeping Beauty.
"Rachel Huffmire is an exciting new voice who takes familiar ideas about fantasy and time travel and shatters those expectations! 'Shattered Snow' is a beautiful reimagining filled with engaging new characters and fresh new ideas. Literary escapism achieved!" - Brian Crosby, Creative Director, Themed Entertainment
Plot Summary for "Shattered Snow":
In 2069, time-travel is restricted to observation and research. But Keltson Grammar doesn't mind breaking a few laws. Known only as "The Mirror," Keltson runs an underground empire that rescues unfortunate souls throughout history. However, a single misstep could send an entire agency to reinstate his clients to their original dismal fates.
Lilia Vaschenko is a Russian mechanic surrounded by cinderblock towers, ladders she cannot climb, and a glass ceiling that holds her down like a casket. She'll do anything to escape - even work for the world's most wanted renegade.
Margaretha is a young countess, destined to be poisoned at twenty-one. But when she discovers a mysterious mirror in the woods that transforms the world into shadows and ice, her future shatters. Chased from her familiar home, will she ever find where she truly belongs?
Author Biography for Rachel Huffmire:
Rachel Huffmire grew up in the middle of a Utah wheat field where she found plenty of time to read and dream. After dabbling with writing novels and stage plays, she ran to the BYU bookstore for her first job. Behind the register, she watched local authors hold book signings and began dreaming up plots of her own. She currently lives in Southern California where she enjoys sand at its finest: the beach and the desert.
Follow Rachel on Twitter @RachelHuffmire
Contact
Immortal Works Publishing
Beth Buck
(385) 202-0116
www.immortal-works.com

Contact