DC Holdings Invests in EZ LED Visual to Make a Future Industry Leader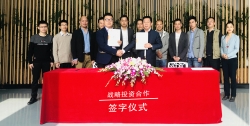 Los Angeles, CA, January 20, 2019 --(
PR.com
)-- On January 12, 2019, EZ LED Visual Co., Ltd. (EZ LED) and DC Holdings formally announced their new strategic partnership in an official ceremony witnessed by many high-profile figures and industry leaders that EZ LED will be operating as a member company of DC Holdings.
As an export-oriented company with established overseas offices in the US and Europe, EZ LED showed great strength in the global LED display market with many high-profile projects installed worldwide. It is now seeking to expand its international presence for future development, which requires consolidation of various resources. "It's all about timing," said Frecy, president of EZ LED. "Thanks to this strategic partnership we are now able to further optimize supply chain, improve product R&D and bring our global sales and services to the next level thanks to the strategic investment as well as industry resources from DC Holdings."
DC Holdings Group, with its strong financial power, high-profile industry background and management experience, is committed to powering EZ LED with full support. "As a relatively young company, EZ LED showed great momentum over the past few years as one of the fastest growing players in the fine-pitch direct-view LED display market, which really impressed me and I believe investing in EZ LED will be one of the best investments I could ever make," said Mr. Tang, president of DC Holdings.
At the end of the ceremony, EZ LED restated its commitment to making quality LED display products and solutions available for all dealers and clients. The hand-shake between EZ LED and DC Holdings will be a milestone for both companies and open a new chapter in their success stories.
Contact
EZ LED Visual Co., Ltd.
Tyler Wong
+1-818-666-1952
www.ezledvisual.com
henry@ezledvisual.com

Contact