Globtec Investment Group Debuts US$300 Million Investment Program to Capitalize Globalization-Ready Businesses in Turkey
Globtec Investment Group and a consortium of partner investors have embarked on a broad mandate to invest in suitable Turkish companies, with a focus on the Mechanical Engineering, Mining, and Tourism sectors. The program is designed to assist in the capitalization and development of Turkish companies by expanding their access to international markets and creating global business connections.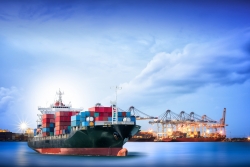 Washington, DC, January 18, 2019 --(
PR.com
)-- Globtec Investment Group, a leading global investor in innovative infrastructure and finance projects, today announced that its second major investment program for 2019 is a credit default swap (CDS) backed loan vehicle that allows Turkish companies to access critically needed development capital.
"This program follows our planned investment of US$170 million for the V4 nations of the Czech Republic, Hungary, Poland, and Slovakia," said Globtec President & CEO Murat Karabay. "Globtec looks forward to helping significantly strengthen Turkey's export industry and sponsoring improved growth for Turkish companies, by facilitating their access to sufficient liquidity to compete in international markets."
Globtec's program is anticipated to be a major boost for Turkey's businesses, where the local credit market is currently very tight. With interest rates rising worldwide, investors are withdrawing from emerging markets. Coupled with the depressed value of the Turkish Lira and a decade-long trade imbalance that has imports far outpacing exports, Turkish companies are struggling to meet their capital needs.
True to its reputation for swimming against common international investment currents, Globtec treats the current market in Turkey as one filled with opportunities. "The underlying numbers are not alarming, it's more a challenge of mood and perception," said Mr. Karabay. "We have to keep in mind that the emerging markets are in a much stronger and more resilient financial position than 20 years ago and that the global financial system has since become much more stable."
CDS contracts are an effective tool to reduce credit risk and hedge credit exposure, while allowing the borrower maximum access to affordable capital. As the CDS market accelerates its efforts to build transparency, confidence, and robust risk management practices, CDS contracts are again becoming more and more common. Today, the global amount of outstanding CDS contracts, which is the value of underlying assets specified in the contracts, is over US$10 trillion.
Globtec is currently fielding inquiries from potential program participants. Beginning in February, they will open negotiations with companies that have been deemed suitable and approved. "This program will be another contribution of Globtec Investment Group to our permanent commitment in the region, and especially for Turkey," said Mr. Karabay.
About Globtec Investment Group
Globtec Investment Group was founded in 2005, to enhance the investment service industry in Turkey, by structuring and offering Turkish investment opportunities to the international market. Following rapid expansion and establishment as a United States-registered business, the company's current focus is identifying investment opportunities in well positioned, innovative companies charting new courses in high performing industries, including Technology, Real Estate, and Green Energy.
Globtec benefits from a strong and experienced management team with a successful record for engaging the international investment community. It develops investor-centric solutions and high profile projects that expand and mature regional capital markets.
Globtec is headquartered in Washington, D.C. and has offices in Istanbul, Frankfurt/Main, and Budapest. The company has additional resources, partnerships, and investors around the world. For further information please visit:
http://globtec.net/
. Image by iStock.com/Tryaging
Contact
Globtec Investment LLC
Thomas Thomson
1 (202) 601-8167
www.globtec.net

Contact