Easy Language Designer Jerey Ojeah Talks New Bracelet Line Whose Proceeds Benefit Black Lives Matter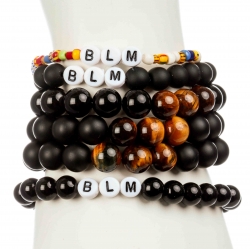 Los Angeles, CA, January 22, 2019 --(
PR.com
)-- Five years in, the Black Lives Matter movement is enjoying an unprecedented wave of support across the nation and around the world. An LA-based fashion designer is making her own contribution towards advancing its causes. Ms. Jerey Ojeah, Founder and Fashion Designer at Easy Language, recently spoke of her new bracelet line that was created with the intention of supporting the movement. A portion of the money earned from every bracelet sold will go towards the cost of legal aid for the protestors arrested for "exercising their God given [and constitutional] right to protest."
"I have created these bracelets to bring focus and awareness to the cause of why we protest," Ms. Ojeah clarifies. "Some bracelets feature the BLM initials; others are more conservative, yet still manage to convey the intended message by having three natural semi-precious stones in the center as the BLM symbol."
The line is comprised of seven, exclusive and hand-made bracelet designs, including The Signature BLM Three Tiger's Eye bracelet, a "subtle and yet most powerful accessory", as well as several other unique designs. According to Ms. Ojeah, the Tiger's Eye crystal was chosen for the fact that, among other things, it symbolizes self-empowerment and self-realization, two cornerstone principles of the Black Lives Matter movement.
Ms. Ojeah's mission is a clear one. "We at Easy Language are proud to be able to spread the word and lend our support to what is one of the most powerful modern-day movements, whose name will be, without a doubt, written in golden letters in global history. It is my hope that these bracelets will decorate the wrists of all those who wish to show solidarity with all those fighting for social justice, and who are ardent supporters of Black Lives Matter and its various efforts."
The bracelet line part of whose proceeds benefit the Black Lives Matter movement can be purchased at www.blmusa.com.
To learn more about Easy Language, please visit easylanguagewear.com.
For Media Inquiries, Please Contact: Jerey Ojeah
Company Name: Easy Language
Address: 3107 W 6th Street, Los Angeles, CA 90020
Phone: (213) 471-2110
Email: blmusala@gmail.com
Contact
Easy Language
Jerey Ojeah
213-471-2110
blmusa.com

Contact