ExhibitDay Announces Launch of Its Free Service for Exhibitors and Trade Show Teams
ExhibitDay announces the Public Beta launch of its free service to help exhibitors track and manage their exhibits and discover new trade shows.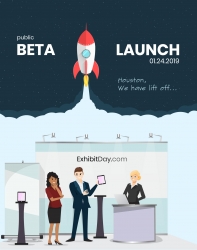 Bethesda, MD, January 24, 2019 --(
PR.com
)-- ExhibitDay, Inc. today announced the official launch of the Public Beta of its SaaS web app. ExhibitDay helps trade show managers, coordinators and exhibitors track and manage their exhibits.
The company is offering a limited number of Professional licenses for users that sign up during the Public Beta period at no charge.
The service is positioned as a super easy-to-use tool targeted to small and medium sized trade show teams and exhibitors. While, today, there are a few enterprise-grade software offerings (targeted to Fortune 1000 companies) that compete in this space, there is currently no other service available that is as easy-to-use, as affordable and offers as many exhibitor-centric features as ExhibitDay. As a result, small to medium sized trade show teams are stuck with disjointed solutions and use spreadsheets, online calendars, or rely on their email inboxes to track and manage the shows they attend.
The ExhibitDay service is offered on a freemium basis. ExhibitDay's Lite plan includes all the basic tools that trade show teams need to organize and track their exhibits -- at no cost. The Professional plan (offered at an affordable per user license pricing model) unlocks more advanced features including: Budgeting and ROI Tracking, Custom Fields and Granular Access Control for team members.
A handful of core features are available for the Public Beta release of the service:
1. Event Tracking
Users have the ability to organize all the exhibitor-related event information including: event dates and times, venue information, important documents (such as exhibitor prospectus, exhibit hall floor plan, exhibit rules, etc.) and booth set-up / dismantle schedules.
2. Exhibit Booth Management
Users have the ability to track booth information for each event such as: booth reservation status, booth size, booth number as well as all the booth services that they require (i.e. electricity, lead retrieval, carpet, etc.).
3. Travel Management
Users have the ability to track all the travel and lodging bookings through the system. Travel bookings and invoices for each event attendee are automatically organized by the system.
4. User Management
Users can assign different levels of access (workspace admin/team member/guest) for each member of the team. The flexible access control mechanism allows team managers to granularly control access to each function of the system.
5. Document Management
Users have the ability to assign and tag all the event related attachment such as: invoices, travel reservation documents, exhibit rules, leads, etc.
For the limited duration of the Public Beta period, users can sign up and reserve their Professional license of for the service at no charge by visiting:
https://www.ExhibitDay.com
ExhibitDay is currently working on a number of new features that will get released once the Public Beta period ends. These features most notably include: Team member To-Do Lists and Tasks, Advanced ROI Tracking, and an Event Discovery Marketplace.
About ExhibitDay
ExhibitDay helps trade show teams and exhibitors track and manage their exhibits and discover new trade shows. ExhibitDay has been under development since 2018 by an experienced team of exhibitors and technology enthusiasts based in the Washington DC area.
Contact:
Media Relations
MediaRelations@exhibitday.com
(855) 827-7570
Contact
ExhibitDay, Inc.
855-827-7570
https://www.ExhibitDay.com

Contact