Body Therapeutix Fitness Launches "The American Dream" Project, Giving Our Nations Heroes the Opportunity to Own a Franchise for a Fraction of Cost
Fitness Company launches a national campaign to give our nation's heroes the chance to own their own fitness location for 50% off the normal franchise fee.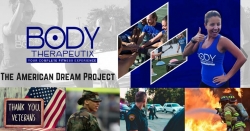 Pembroke Pines, FL, January 28, 2019 --(
PR.com
)-- Today, Body Therapeutix Inc., an outdoor fitness company specializing in group personal training opens launches "The American Dream" Project, with the aim to give our nation's heroes the opportunity to own a fitness franchise for only $500/month.
Of the company's recent launch of this initiative, Body Therapeutix President Jason Meland said, "We're on a mission to positively impact the health and fitness of as many lives as possible. We couldn't be more grateful and excited to provide this opportunity to those who serve and protect our nation and communities."
Meland is a former firefighter who was electrocuted in a house fire back in 2009. His recovery was what drove him to fitness, which in turn, led him to opening the first Body Therapeutix location.
Now that the company is franchising, Meland stated, "I wanted to give back to our nations hero's. This provides them the opportunity to own a successful fitness business while making a positive impact in their community and living the American Dream they work so hard to protect."
With this project underway, they have decided to give the first 10 locations away for $500 a month instead of the normal 6% royalty that they would typically charge.
"I know what it's like to build a business from scratch and all the ups and downs that go with it," comments Meland. "This is our way of taking action and giving back to those who protect our nation and serve our communities."
Body Therapeutix fitness provides hands on training and business support for their franchise owners. Meland and his team will be there from the very beginning to train, support, and walk new franchise owners through opening up and operating a successful Body Therapeutix fitness location.
Body Therapeutix Fitness is family owned and operated in the South Florida area and is dedicated to serving clients who want a unique, fun, and challenging workout. Founded in mid-2013, Body Therapeutix fitness has impacted over 2000 people in the South Florida area. The Body Therapeutix workouts are geared towards all fitness levels and provide members with an affordable solution to having a personal trainer.
Find out more at
http://www.bodytherapeutix.com/franchise-opportunity/
If you would like more information about this topic, please contact Jason Meland at 954-790-3551 or email at jason@bodytherapeutix.com.
Contact
Body Therapeutix
Jason Meland
954-790-3551
bodytherapeutix.com

Contact