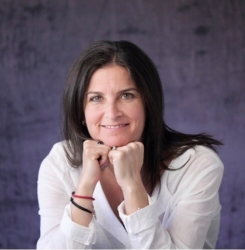 Denver, CO, February 06, 2019 --(
PR.com
)-- Samantha M. Ruth, MA, LLP of Denver, Colorado has been recognized as a Woman of Excellence-Industry Leader for 2019 by P.O.W.E.R. (Professional Organization of Women of Excellence Recognized) for her outstanding contributions and achievements in the fields of life coaching and visual psychotherapy. This award recognized women for their outstanding achievements and high level of success in their industry. They are knowledgeable, goal oriented, and do their very best to maintain high standards.
About Samantha M. Ruth, MA, LLP
Samantha Ruth has over 20 years experience in the mental healthcare field. She is a transformational life coach and virtual psychotherapist. She is the founder and CEO of Never Give Up which provides virtual psychotherapy services which provides services nationally. Ms. Ruth offers a highly personalized approach tailored to each of her client's individual needs to help attain the personal growth they are striving for. As a transformational life coach, she wants to help her clients reach their goals.
Samantha has years of experience working with a wide range of mental health issues. Since relocating to Colorado in 2014, she has devoted her energy towards increasing her education, experience and overall knowledge so that she can provide the best services possible each and every day. She promises to provide clients with a safe and confidential environment so they can work together towards accomplishing their goals.
"Online therapy is an affordable and easy way to start on a healing journey," advises Samantha. There are many areas that she can help with virtual counseling to include: mood disturbances, anxiety, depression, fatigue, mood swings, panic attacks, Bipolar disorder, self-esteem, loss and grief counseling, suicide, addiction, self-injurious behavior, divorce and blended family issues, academic issues, behavioral problems, ADD/ADHD, anger management, relationships, eating disorders, and lesbian/gay/bisexual/transgender. Samantha's services include individual, family and group counseling. Some clients may feel unsure about online therapy but there are many benefits to digital therapy. Samantha is able to help clients regardless of their location from the comfort of their home. There are no hassles of commuting for a face-to-face meeting. There is full confidentiality and she provides secure online safety. Clients can schedule meetings to fit within their schedules, regardless of location or time zone. Ms. Ruth can work with clients via email, telephone or video, whatever works best and provides the most comfort. Being extremely holistic, she provides several alternatives to medication, looking at natural solutions before medication such as diet, yoga and environmentally friendly products she promotes from toothpaste to pain management.
After obtaining a B.A. in Psychology from the University of Michigan in Ann Arbor, Samantha obtained a M.A. in Psychology and LLP from the Center for Humanistic Studies in Detroit, Michigan. She has written several articles in her field. While living in Michigan, Samantha owned a practice for 15 years, specializing in individual, family and group counseling. She also provided trainings, speaking engagements and crisis management for schools and companies. She worked at the Great Lakes Psychology Group, the Oakland Psychological Group, the Livonia Counseling Center and the Common Ground Sanctuary. When Samantha moved to Denver, she continued treating many of her clients through email, text and phone calls, which led her to create Never Give Up.
After recently losing her husband, who was her biggest fan, Samantha is more determined than ever to never give up. In her spare time she enjoys being in the outdoors.
Samantha states, "No two paths are alike, and I recognize the need to work with each online therapy individual in a way that best suits his or her needs."
For further information, please contact https://nevergiveup.care/ or www.facebook.com/nevergiveuponlinetherapy/.
About P.O.W.E.R. Magazine (Professional Organization of Women of Excellence Recognized) and PowerWOE.com
P.O.W.E.R is a website as well as a digital and print magazine featuring celebrities and everyday hardworking professional women. Our mission is to provide a powerful network of empowering women who will mentor and inspire each other to be the best they can be. Through our valuable services, our members can collaborate with like-minded professionals, gain recognition and obtain knowledge from those who have already achieved success.