Poniatowski Speaks Compliance
CEO Jared Poniatowski of New Age Marketing Inc. speaks on Compliance in Atlanta, GA for the South East Regional Leaders meeting.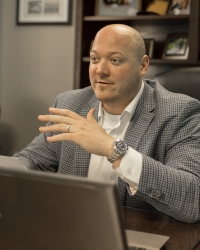 Charlotte, NC, January 31, 2019 --(
PR.com
)-- Jared Poniatowski CEO and Founder of New Age Marketing Inc. was announced as the guest speaker for the National Retail South Eastern Regional Leaders meeting. The meeting was scheduled to be held at the Hyatt Hotel and Conference Center but due to the Super Bowl festivities was changed last minute to The Cobb Galleria. The conference covered team building, entrepreneurship, sales training and business development. Poniatowski has spoken at several Regional Leaders Meetings, but he has never been asked to speak on Compliance.
New Age traveled with eight Account Managers and Corporate Trainers from the South Eastern part of United States. The meeting featured Eight Key Note Speakers at the Regional and National Level and Poniatowski.
When asked after the conference, Poniatowski stated: "I was humbled to speak with such a great group of Regional and National Consultants in the program. Several of them have mentored me along the way. Compliance is the most important key to success with dealing with the worlds largest companies and Retail Accounts. Nothing else matters when it comes compliance. Its not just maintaining the relationships with the clients and retail accounts but it goes all the way to the consumer. Going Above and Beyond was the message sent this year, I feel with the acquisition of our new clients and the launch of those programs this year its imperative we teach and train the new employees and partners the right way the first time around."
When Assistant Director Zachary Fowler was asked about how the meeting went:
"Being a part of the New Age Marketing Family has helped me grow professionally and personally. Seeing my mentor talk to not just our team, but the entire South Eastern Regional Leaders in the program is something special. I truly believe that an amazing organization such as New Age and the one on one mentoring that I get from the CEO himself will help me tremendously in my career," Fowler said.
New Age Marketing is one of the fastest growing Marketing Firms in the South Eastern Region with expansions to three more cities in the last six months and is named the Best in Class for delivering their clients product and services. They are currently hiring for those expansions.
Contact
New Age Marketing Inc.
Mariel Fincannon
704-449-7313
newagemarketinginc.net

Contact