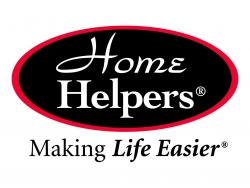 Evansville, IN, February 01, 2019 --(
PR.com
)-- Home Helpers® Home Care of Southwest Indiana has partnered with Promisor Residential, offering a new solution designed to help clients who need financial support. Using Promisor Residential programs, qualified clients can remain in the homes they love and be able to afford the in-home care they need.
"As the owner of a Home Helpers Home Care office, it's a helpless feeling when a client has to cut back or even quit our services because they can no longer afford it," said Home Helpers Julie Nelson. "I'm very excited about this partnership with Promisor Residential because it can help clients quickly gain access to the equity in their home to help give them the financial flexibility they deserve while staying in the home they love."
Through their unique Quick Buy Leaseback™ program, Promisor Residential clients enjoy fewer restrictions and distinct advantages over a traditional reverse mortgage. That's because Promisor Residential actually purchases the home at a fair price and gives the equity back to the residents, who then lease the home back from Promisor Residential. There's no change in lifestyle or need to move. In addition, Promisor Residential pays all property taxes, homeowners insurance and major repairs.
"While this isn't a service all of our clients need, for those who do this can be a godsend," said Julie Nelson. "We don't get involved in this process – the clients work directly with Promisor Residential – but it's nice to have this partnership available and to be able to let our clients know they do have some financial options available should they need them."
Anyone interested in learning more about Quick Buy Leaseback and other options available from Promisor Residential can call toll-free 1-888-876-7466.
About Home Helpers of Southwest Indiana
Home Helpers of Southwest Indiana opened in 2015. Located at 2425 Highway 41 North, STE 404, Evansville, Indiana, the agency is owned and operated by Julie Nelson of Evansville, who are committed to providing Exceptional Care and assistance to families in the Southwest Indiana area, including Vanderburgh, Warrick, Posey, and Gibson Counties]. For more information and a free, no-obligation in-home assessment, please call (812) 618-0916.
About Home Helpers Home Care
Since 1997, Home Helpers® Home Care has provided exceptional in-home care to seniors and others. With independently owned and operated offices in more than 900 communities across the United States, we are committed to supporting the dignity and independence of the families we serve.
Media Contact: Misty Quick, Director of Marketing; 513.563.8339, ext. 162