SF International Festival Announces Full Schedule for "The Path to Democracy" 2019 Performance Program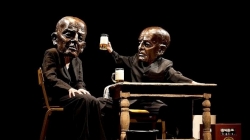 San Francisco, CA, February 04, 2019 --(
PR.com
)-- The San Francisco International Arts Festival (SFIAF) is pleased to reveal the full schedule of performances for the 2019 Festival that will run from May 23 – June 2 and have as a central theme The Path to Democracy. As the dark clouds of nationalism and fascism re-assert themselves on the global stage, SFIAF looks at some of the struggles for democracy past and present and how they manifest themselves in different cultures. The Festival will take place at, and in partnership with, the Fort Mason Center for Arts & Culture.
The 2019 program features work and unique perspectives by 50 ensembles from the United States and 13 other countries including Argentina, Brazil, Canada, Czech Republic, Germany, Hong Kong, Japan, Republic of Ireland, Republic of Tuva, South Korea, Spain, Syria and Taiwan.
Some of the international highlights include: Making their US debut from Syria via Germany is Collective Ma'louba with the US Premiere of Your Love is Fire - playwright Mudar Alhaggi's jarring and surreal drama about a group of individuals caught up in the Syrian civil war and the questions posed regarding remaining in a combat zone or fleeing and becoming refugees in a democratic Europe.
From the Czech Republic The Spitfire Company presents Antiwords the west coast debut of their physical theatre interpretation of Vaclav Havel's seminal play Audience, a cleverly-constructed satire on power and those who wield it written in the years following the Prague Spring. An impoverished playwright tries to earn a living in a communist era brewery. Vanek (an only slightly veiled reference to Havel) is summoned to a meeting with the Head Maltster and offered promotion, but only if he informs on himself.
From Kowloon Theatre de la Feuille presents the Orphan of Zhao a physical theatre retelling of the classic Chinese story in the years following the yellow umbrella protest movement for democracy in Hong Kong.
Japanese composer Tomoko Momiyama approaches her role through a medium of communication and intervenes in the relationships between people and their environments, in order to weave diverse narratives into multi-layered music. Tomoko will create a piece for the Festival made in community with the U.S./Japan Cultural Trade Network that reflects on themes of environmental justice and equity.
The Festival presents two international dance performances that reflect very differently on the politics of male-female relationships. Chen Wei Lee and Zoltan Vakulya (Taiwan and Hungary respectively) present the US Premiere of Together Alone about the pressures of living as a couple who are also freelance touring artists with different companies. They pose the question, "How do you get a marriage to work when you spend most of your time apart?"
Compagnie Virginie Brunelle from Montreal Canada provides the Festival's international moment of levity with the US premiere of Complex des Genres, as the battle of the sexes plays out in an eternal but light hearted struggle for advantage and supremacy amid tulle skirts, fierce partnering and a ballet aesthetic.
This year's Festival also marks the inaugural platform of an Alumni Performance Program that presents the work of younger artists who have graduated from one of Northern California's institutions of higher learning in the last five years. This year's participants include Jessica La Rel (Stanford), Us in the US (California State University East Bay), Lili Weckler / Unhinge (California Institute for Integral Studies), pateldanceworks (Mills College) and Jessica Fertonani Cooke (San Francisco Arts Institute.
The Festival also continues to work to integrate Fort Mason resident organizations into the Festival program. This year's lineup includes productions by the Magic Theatre and Bay Area Theatre Sports.
An extensive educational program will also feature in 2019 as SFIAF expands its programs with Lines Dance Center, American Conservatory Theater, Friends of the San Francisco Public Library Bookstore, FLAX Art Supplies and the San Francisco Conservatory of Music among others.
The 2019 San Francisco International Arts Festival is funded in part by: Phyllis C. Wattis Foundation, Trust for Mutual Understanding, WESTAF, Bernard Osher Foundation, Koret Foundation, Taube Philanthropies, Goethe Institute, Sam Mazza Foundation, Taiwan Academy, National Endowment for the Arts, Taiwan Ministry of Culture, Hong Kong Arts Development Fund, Canada Council for the Arts, Global Affairs Canada, Czech Ministry of Culture and Kulturstiftung des Bundes.
For the full calendar listings of all the performances in the Festival see the PDF attachment.
Contact
San Francisco International Arts Festival
Andrew Wood
415-399-9554
www.sfiaf.org
Cell Phone: 415-305-1102

Contact
Multimedia
This document includes dates, times and venues of all the performances in the 2019 Festival.