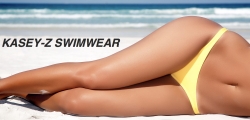 Las Vegas, NV, February 09, 2019 --(
PR.com
)-- Jennifer Zemp and Ron Zemp announce the launch of a new sexy sandal Line in June 2019. Jennifer Zemp's shoe line Kasey-Z Shoes, is proud to announce the launch of her new line of high-end sandals inspired by fashionable comfort. The new line is owned by entrepreneurs Ron Zemp and Jennifer Zemp. Ron Zemp is the investor behind the new brand. This new design will feature sandals with a little something for everyone.
"We saw an opening in the market for an attainable fashion sandal that puts both comfort, quality, and trend at the forefront of design. There's something for everyone," said Ron Zemp.
Kasey-Z sandals are comfy enough for a glass of wine on you back porch at home and stylish enough for sips of wine at prestigious vineyard in Napa.
Jennifer Zemp says, "Our goal was to create a sexy and fashionable sandal that's simply sexy, fun, and easy to wear."
These high-end sandals will launch June 2019 in Nevada with prices ranging from $200.00 to $600.00.
KaseyZ sandals will be available online for retail at Jenniferzemp.com.
About Kasey-Z Shoes & Sandals
Kasey-Z Shoes & Now Sandals is a world leader in cutting edge heels. Founded in 2008, Ron Zemp and Jennifer Zemp revolutionized the luxury heel industry through quality and innovation. For more information about Kasey-Z Shoes & sandals, please visit https://www.jenniferzemp.com/coming-june-2019-sexy-sandals.
Contact Information:
Jennifer Zemp's Kasey-Z Shoes
Jennifer Zemp
310-525-9943
Contact via Email
https://www.jenniferzemp.com/coming-june-2019-sexy-sandals
About Jennifer Zemp & Ron Zemp
Kasey-Z Shoes & Sandals is a 50/50 joint venture partnership between Ron Zemp and Jennifer Zemp established in 2008. For more information about Jennifer Zemp, please visit, www.jenniferzemp.com/coming-june-2019-sexy-sandals