Histria Books Announces Signing World Champion Gymnast Verona van ee Leur to an Exclusive Book Contract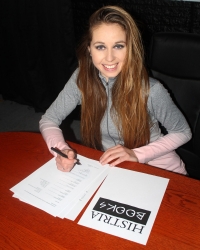 Palm Beach, FL, February 12, 2019 --(
PR.com
)-- Histria Books is pleased to announce the signing of controversial world champion Dutch gymnast Verona van de Leur to an exclusive book contract. Histria Books is an independent publishing house with offices in Las Vegas and Palm Beach. Her autobiography, Simply Verona: Breaking All the Rules, will appear under Histria's Gaudium imprint.
Verona van de Leur rose to fame in 2002, winning a silver medal on the floor exercise at the World Gymnastics Championships. She became the most famous gymnast from the Netherlands, and she was named "Sportswoman of the Year" in 2002. Although her remarkable talent brought her medals, money, and fame, and she seemed like a young woman on top of the world, Verona's life soon spun out of control. Abused and exploited by those closest to her, Verona suddenly lost everything that she had worked so hard to achieve.
Living on the streets of Holland, she was homeless, penniless, living out of her car, contemplating taking her own life. But from the depths of despair, Verona emerged to rediscover herself and to become a successful, albeit controversial, entrepreneur. In this no holds barred, tell-all autobiography, reveals her true story to the world. In it, she discusses the world of gymnastics, the abuses she suffered in the sport, and her successful struggle to overcome all of the obstacles she faced, both in and out of the gym.
"I am so pleased to have the opportunity to tell my story to an international audience," Verona said. "Histria Books and its new Gaudium imprint offer me a great venue to achieve that goal. I am delighted to work with such a group of talented professionals."
Gaudium Publishing is an imprint dedicated to books on contemporary lifestyle, culture, sports, and politics, as well as biography and autobiography. According to Histria Books acquisitions manager, "Verona's book is a great fit for our new Gaudium imprint, where we look for exciting titles that challenge accepted norms."
Histria Books is a member of the Independent Book Publisher Association (IBPA). Books published under the imprints of Histria Books may be purchased at all major booksellers, as well as directly at HistriaBooks.com.
For information on publishing with Histria Books, please visit HistriaBooks.com or contact us at info@histriabooks.com
Contact
Histria Books
Dana Ungureanu
561-299-0802
histriabooks.com

Contact
Multimedia
Video preview of Simply Verona: Breaking All the Rules, coming Fall 2019 from Gaudium, an imprint of Histria Books