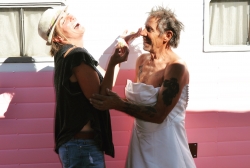 Santa Cruz, CA, February 12, 2019 --(
PR.com
)-- The Divorce Dress needs a Valentine? Forget swooning over chocolates and flowers, save that stuff for the beginning, they are collectors of relationship endings. They want your soul!
"Eight years ago when Kenda Hansen moved in with her now husband, she found his ex-wife's wedding dress in her closet, and she didn't know what to do with it. It hung there for two years - rather annoyingly in the way, considering that she saw it each time she needed a shirt or pair of shoes. The ex-wife didn't want it back, and her fiancé suggested eBay. But Kenda and her best friend found a better use for it." - Georgia Johnson
Two women, one dress and a mission: Travel the world to document stories of relationship endings for the book, The Divorce Dress.
Here's what they do. They put you in their dress and listen to your stories about relationships...divorce, exploring everything from cultural stresses to religious beliefs. You do not need to be divorced to be in the dress. You can be the product of a divorce, never married, never divorced, etc. Participants come from all walks of life, even celebrity divorce attorney Laura Wasser has been in the dress.
The Divorce Dress is about the pain and transformation of breakups, about the strength we find as we muster the courage to move on, and the ridiculousness that we battle as we find our way...photo documented while every participant wears one, magical, well used dress.
They need your help. The Divorce Dress is always traveling, next stop London and Paris. They need participants, March 8-11, 2019 in Paris and March 11-15, 2019 in London. Please contact them to share your story. Who knows, they might be in your area soon.
So far The Divorce Dress has traveled across the US, Canada and Central America. The team, Kenda Hansen and Georgia Cantando, have set their next sights on Europe, Asia, and Africa to add more global perspectives in their desire to give relationship endings the platform for discussion that they deserve.
Go Fund Me
will help determine how far they get. View progress at
The Divorce Dress
, Facebook, and their Instagram, where they post the behind the scenes footage showing what it's like to delve into this sensitive topic.