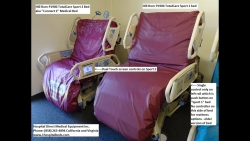 San Diego, CA, February 21, 2019 --(
PR.com
)-- Hospital beds that come from hospitals that provide a high level of patient care to patients with MS, ALS, quadriplegic, paraplegic and other needs are not easy to find in the USA and many medical equipment companies do not wish to carry or sells beds because of the size, weight and freight and shipping requirements needed to purchase them.
One medical equipment company, Hospital Direct Medical Equipment Inc., based out of San Diego California and Richmond Virginia has found a calling and a niche selling very high end refurbished Hill Rom hospital beds including the Hill Rom P1900 TotalCare Sport and P3200 Versacare bed models. These hospital beds are "air mattress" beds which are made to treat and prevent bed sores, skin ulcers, pressure wounds and other types of skin breakdown which occurs in patients that spend an extended amount of time in bed.
The "Hill Rom TotalCare Sport 2" is one of the most popular beds requested by patients with special needs and critical care since it not only has an air mattress which helps turn the patient (lateral rotation), low air loss to prevent over heating and sweating but also sits in a full "chair position" which allows the patient to transition from the bed to a wheelchair or transport device much easier.
Hospital Direct Medical Equipment Inc. uses certified ex Hill Rom technicians to do the refurbishment work. These technicians are people who had once worked for Hill Rom providing bed repair and servicing but have chosen to leave the company and take their skills elsewhere. Many of these technicians have been working on beds like the P1900 TotalCare Sport and other models for over 20 plus years and are experts in knowing what the beds need and what to look for in maintenance and repair.
Hill Rom medical beds can cost anywhere from $15,000 to $50,000 new but sold used-refurbished the costs are much less and much more affordable for home care patients, hospitals on a budget, insurance companies and families looking to take care of loved ones with special need requirements.
Based out of San Diego California, Richmond Virginia and with a distribution hub also just outside of Cincinnati Ohio the company is able to deliver to many parts of the United States and ship to other areas they do not cover. They are also supply parts and service and support to most areas of the United States once the bed has been purchased.
For patients looking for a high quality Hill Rom hospital bed cheap Hospital Direct Medical Equipment provides an outlet that few other companies are able to provide for high quality medical beds at a more affordable price than buying new.
For more information on the Hill Rom P1900 TotalCare Sport bed, the Hill Rom P3200 Versacare bed and other Hill Rom ICU and acute care beds with air mattress systems contact Hospital Direct Medical Equipment at the numbers below or email questions to hospitaldirectmedical@gmail.com. Visit the Hospital Direct Medical Equipment Inc. website at https://www.1hospitalbeds.com for hospital bed prices and more information.
Hospital Direct Medical Equipment Inc. - Used Hill Rom Bed Dealer
Contact information
San Diego California (858)-263-4894
Richmond Virginia (804) 929-6886