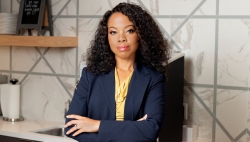 Anaheim, CA, February 26, 2019 --(
PR.com
)-- Julia Erdkamp, CEO of Coxswain Consulting, a firm designed to help organizations build the leadership and operations required to achieve world-class status, was recently featured in the California Business Journal. Erdkamp is no stranger to such accolades, with both she and her firm receiving features in a host of publications, including Black Enterprise, Western City, and USC Dornsife Magazine.
The California Business Journal feature highlights Erdkamp's career in consulting and how she made her successful leap from working for other firms in the industry into masterminding her own consulting firm, Coxswain Consulting, in 2017.
Over her years of industry experience, Erdkamp has established herself as a trusted advisor for C-suite leaders and entrepreneurs looking to elevate their organizations to new heights. And as the feature highlights, her experience runs the gamut of company types, including public agencies, churches, and non-profits. She has had the privilege of partnering with a broad range of industries, spanning engineering, renewable energy, residential law, and more throughout her years of consulting.
Through her relationship-based consulting services at Coxswain, Erdkamp has played a critical role in assisting a number of organizations with deploying innovative solutions to help boost their social, professional, and financial capital through her executive programs. Her newest effort, the High Performance Management Systems Executive Program, launches this month and is based on Erdkamp's years of experience in helping businesses build blueprints for success as well as research-based analysis of common pitfalls that failing businesses must overcome to succeed.
"It is an honor to be featured in the California Business Journal," said Erdkamp. "My hope is that business leaders will see there are holistic solutions out there to assist them in transforming their firms from the top down, which result in high-performing organizations that everyone can feel good being a part of."
To read Erdkamp's feature in the California Business Journal, visit
https://www.coxswainadvisors.com/cbjfeature
. To learn more about Erdkamp and Coxswain Consulting, visit https://www.coxswainadvisors.com/.