XSELL Technologies Announces Thomas Gibson Has Joined the Firm as Managing Director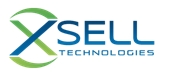 Chicago, IL, February 26, 2019 --(
PR.com
)-- XSELL Technologies, Inc., a leading provider of AI and Machine Learning solutions, has announced that Thomas Gibson has joined the firm in the role of Managing Director. Tom will be responsible for bringing XSELL's platform to market and driving new client acquisition. He will work closely with the XSELL leadership team to help build out the overall AI roadmap and a cohesive and comprehensive AI strategy for execution.
"We are pleased to add Tom Gibson to our leadership team and believe he will accelerate the growth of our business. Tom has had tremendous success delivering value based outcomes to clients and his background with SAAS and Cloud based platforms aligns well with our direction," says Matt Coughlin, XSELL Founder and CEO.
Tom Gibson brings over 20 years of experience in the technology industry with a balanced focus on consulting, enterprise systems, service management, security, compliance, application development and managed services. At his last firm he delivered significant new logo client wins and led the development of new offerings to address business and compliance challenges. Tom has been a leader and innovator working for iconic brands like McDonald's and Xerox. While at Xerox, Tom was part of the leadership team that launched the Xerox Cloud. He was responsible for Sales, Alliance Partnerships and Solution Architecture. Tom is a graduate of Southern Illinois University and resides in Chicago.
"The AI industry is moving incredibly fast and XSELL's platform has already proven to deliver increased revenue and profits to diverse clients across multiple industries. XSELL's platform combines math and science to drive the type of interactions that customers love. The platform teaches us how to delight customers, even when something goes wrong during the sales process. XSELL empowers clients to measure and track the strength of their brand and relationship with every customer interaction. I'm thrilled to join the XSELL Team and be part of a culture that aligns with the digitally forward-thinking companies that are shaping the new economy," noted Tom.
For more information on XSELL Technologies, please visit us on the web at
www.xselltechnologies.com
, follow us on Twitter @XSELL_TECH, like us on LinkedIn or Facebook.
Contact
XSELL Technologies
Mary Ellen Wood
630-886-5108
www.xselltechnologies.com

Contact